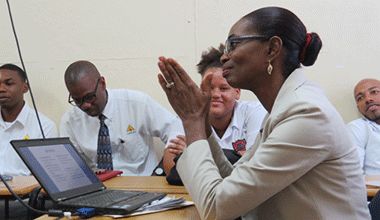 VINvolunteers move to BCK
St Vincent Electricity Services Limited (VINLEC) continues to reach out to the youth of this country through its VINVolunteers programme. The VINVolunteers initiative was launched earlier this year to encourage volunteerism across the company. Traditionally, VINLEC's contributions to charities and organizations have been in the form of financial donations. Through this initiative, the company grants time for volunteers to work on projects, in addition to providing financial assistance.{{more}}
On Thursday, October 13, the company formally launched a project at the Bishop's College Kingstown. Through this particular initiative, VINLEC will provide financial as well as moral support to the group. The mentorship aspect of the programme will concentrate primarily on Form 3 students, as they are at a crucial juncture in their lives, both academically and personally. BCK has three Form 3 classes and our employees will meet the students from these classes on Thursday mornings for the remainder of the academic year. Thursday's session was done by Juliette Hinds-Wilson, VINLEC's manager, Finance.
In addition to this, the VINVolunteers initiative will provide support in the area of transportation for some disadvantaged students and provide lunches for 12 children who require such assistance over the school year. There are nine employees involved in this project.
A number of other areas of interest have been identified and in some cases preparatory work has commenced. These include projects at the West St George Secondary School and the School for Children with Special Needs.
All of the initiatives are in keeping with company's theme for 2016: "Our Community, Our People".