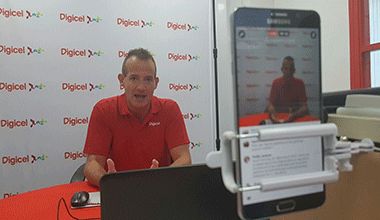 Digicel SVG country manager announces plans to expand call centre in virtual Q&A live session
Telecommunications company Digicel SVG on the morning of Tuesday, October 11, held its first virtual question and answer session, geared primarily at giving Digicel customers and the Vincentian public as a whole the opportunity to share their likes, dislikes and how the telecommunications provider can better cater to their needs.{{more}}
The one-hour long Facebook Live session, which was hosted by Digicel SVG's country manager John Davies, heard him sharing his personal and professional experiences in SVG for the past two months, summarizing it all as a journey that continues to be very rewarding.
The session saw persons inquiring about when Vincentians can expect to see enhanced Digicel coverage, the possibility of past Digicel promotions returning to the local market, whether Digicel is opened to partnering with local entrepreneurs to develop and roll out new products and the possibility of internship and fulltime employment with the company. Davies said that in the near future, Digicel will be hiring for its call centre, which turned 1 on October 5th, 2016. He said in the coming months the company will be employing customer and service agents, announcing also that Digicel is looking at options to enhance and expand its retail footprint in SVG. Davies added that the company will be introducing a brand new dedicated customer experience team to address all customer pain-points and strategically deal with these problems on an individual and collective basis. Additionally, Davies announced that Digicel is now busy expanding and enhancing its network, with specific focus on data speed, stating that this new development is something very exciting Vincentians should look forward to.
Davies said that while here, he will be using every possible avenue to reach out and get feedback from customers, adding that persons can expect another Facebook Live session within the next four to six weeks.