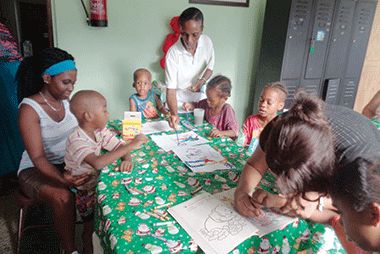 Trinity student groups forge links with community
Trinity School of Medicine, since its establishment in 2008, has provided many opportunities for its students to interact with the Vincentian community in areas which often go beyond the strict business of acquiring medical knowledge. Today, through its student government organizations, the school continues to forge strong links with communities within St Vincent and the Grenadines (SVG).{{more}}
On Saturday, September 24, three groups of students from Trinity journeyed to the St Benedict Children's Home in Georgetown, in an act of maintaining and fostering these relationships.
'Kid Companions,' a group launched in February 2016 as an initiative of medical student Diana Freeman, focuses on mentorship. Its visit, according to co-president Shirley Samuel, was to introduce the new members to the children of that facility in a meet-and-greet session. This included activities such as outdoor games, indoor games, colouring and painting, in a joyously spent afternoon. They were divided into groups for these activities, with each child having a companion to interact with.
As far as their upcoming activities go, the co-president gave a layout of their plans for the remaining weeks of this term: they will be engaged in an Arts and Craft session in October and will enjoy a Carnival in November.
Two other groups, the Trinity arms of the Canadian Medical Students Association (CAMSA), and the American Medical Students Association (AMSA), were also among the visitors to the Children's Home. CAMSA, which, for some time now, had been donating supplies of clothing, toiletries, linen, toys, books, crayons and other items, as requested by the orphanage, made one such donation to the institution. AMSA also presented gifts of blankets and linen to the Home.
Prior to these donations, on Tuesday, 20th September, some faculty and other members of staff at Trinity were on hand to witness the official handover of items to officials of two institutions on the island: the Mental Health Centre and the Milton Cato Memorial Hospital. CAMSA's current president, Sonia Stasyszyn, outlined that the items included quantities of clothing, linen and toiletries to Mental Health and to the hospital, supplies that allow for safer patient care, like shoe covers and gloves.
Dr Conrad Nedd, assistant dean of Clinical Sciences, reminded all that, "Even though we encourage students here at Trinity that, as part of their professional duties, it's important to be able to make contributions to their community. Even physicians practising have a responsibility to interact with their communities and find some way of giving back, whether by knowledge or by sharing their expertise." He expressed his approval that the physicians-in-training had come up with the initiatives of contributing to the local community.