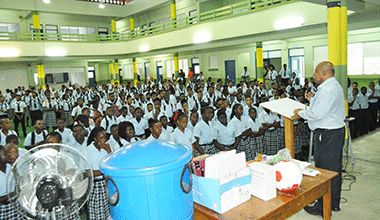 West St George Secondary School, Belmont Primary School benefit from area representative
The West St George Secondary School (WSGSS) and the Belmont Primary School are now better equipped to cater for the needs of their students and to facilitate their participation in various engagements for the school year 2016/ 2017. The boost was provided to the schools by the Parliamentary Representative for the area Cecil Mckie.{{more}}
In his remarks at the handover ceremony, Mckie, who is also the Minister of Tourism, Sports and Culture, praised the West St George Secondary School for its performance over the academic year 2015/2016 in the areas of academics, sports, agriculture, culture, home economics and in their social development and community outreach programmes. He also urged the administrative and general staff, teachers, parents and guardians and the students to all commit and aim for even better results for the school year 2016/17. He proffered that the items donated will facilitate the proposed enhanced results.
The items handed over to the WSGSS included: two garbage receptacles, compliments All Island Recycling, to assist with garbage collection on the compound; a standing fan for the staff room; a quantity of soccer balls; medical sporting aids; and a variety of stationery and school supplies.
In her response, principal Williams thanked the Parliamentary Representative for his timely donation and praised him for his ongoing support of the school over its 12-year history. The items, she said, will all be put to good use by the school.
Mckie also made a presentation to the Belmont Primary School. Items donated included: a standing fan for the office; stationery items; and vegetable seeds to assist with the school's agricultural programme.
Head teacher Ms Craigg and a student of the school both expressed appreciation to Mckie for the timely donation, which they said will go a long way in catering for the needs of the students, teachers and the school.