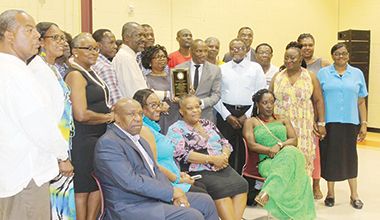 CG Selmon Walters gets farewell cocktail
Vincentians in the New York area, on September 23, gathered at the Friends of Crown Heights for a farewell cocktail in honour of outgoing consul general Selmon Walters.
Organized by Vaughn Toney and the Council of St Vincent and the Grenadines Organizations, USA, Inc (COSAGO), the event also saw persons expressing their best wishes to Walters.
A presentation was made to Walters from the Vincy Day Committee, a committee which he headed for the past five years. Additionally, COSAGO presented Walters with a plaque, in recognition of his tenure.
The recall of the former consul general was part of a set of changes that were made in the diplomatic corps last month by the Cabinet of St Vincent and the Grenadines.
Walters' replacement is Howie Prince.(RT)