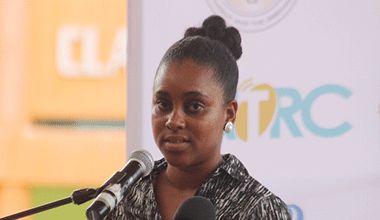 NTRC I2 competition aiming to inspire future entrepreneurs
The National Telecommunications Regulatory Commission (NTRC) has launched its 2016 Ideas and Innovations Competition, called the I2 Competition.{{more}}
The launch took place last Friday, September 16, at the St Vincent and the Grenadines Community College (SVGCC) at Villa, and is open to students from secondary schools, technical institutes and the various divisions of the SVGCC, giving them the opportunity to compete for up to $3,500 in cash and other prizes.
The competition was introduced in 2013, and was created to give the youth of SVG a chance to use their creativity to, among other things, create mobile applications.
Initially, the participants were encouraged to develop apps that would be beneficial to the public sector; however, this year, students will be developing apps for private sector use, which can improve an existing system or facilitate the implementation of new systems within the business community of St Vincent and the Grenadines, so as to improve the delivery of services to consumers.
Keisha Gurley, the project coordinator and NTRC Consumer and public relations manager, pointed out that the competition seeks to get young people involved in doing something for their country, while being creative and learning as well as inspiring them to be entrepreneurs, so that they can start a business with whatever mobile application they create, and due to the high usage of technology in today's world, the NTRC believes that the youth's ideas can be very beneficial.
Also addressing the launch were NTRC director Apollo Knights and Carlon Brown of Digicel, who encouraged the students present to make the most of the competition, which could open the door to lucrative opportunities in the future.
Also making presentations were past winners Nyron Collis and Cenus Hinds. Hinds, who was the event's featured speaker, joined with Collis in calling on the students to make use of the competition, and encouraged them not to give up on their dreams.
A Samsung Galaxy S7 was also raffled at the launch, and saw Girls' High School student Breana Marksman, a previous participant in the competition, taking home the coveted handset.
The prize for the first place winner would be EC$3,500 for the mobile app and $2,000 for innovative ideas; second place will receive EC$2,500 for the mobile app and $1,500 for innovative ideas and third place will receive $1,500 for the mobile app and $1,000 for innovative ideas. Other prizes include $1,000 for the school with the most entries and mentors from the winning team will receive prizes, ranging from $500 – $700.
Registration for the competition closes on Friday, November 4 this year, with the grand finale taking place on Thursday, January 19, 2017.
Persons can enter by collecting registration forms at the NTRC office, located at the NIS building in Kingstown, or online through the NTRC's website (www.ntrc.vc), or through a special mobile app created for this occasion called the NTRC I Squared app on the Google app store.