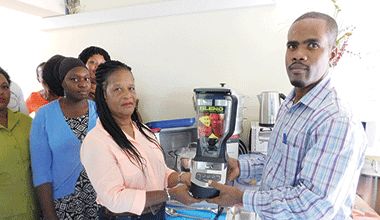 COSAGO donates kitchen supplies to MCMH
The Milton Cato Memorial Hospital (MCMH) recently received a quantity of kitchen items, courtesy of the Council of St Vincent and the Grenadines Organization (COSAGO).{{more}}
Included among the items donated on March 4 were microwaves, toasters, mixing bowls, dinner plates, soup bowls, electric kettles, blenders, pots, pans, serving trays, cutting boards, cutlery, three cases of gloves and two wheelchairs.
COSAGO intends to foster a closer co-operation on projects and events, promote the development of information media, develop and formalize contacts, create an effective voice and establish funding mechanisms.
The organization previously worked with NEMO during the destruction caused by hurricane Tomas in 2010 and the devastating floodwaters in Georgetown and other affected areas in 2011.
As part of the organization's continued efforts, they have helped to restore the lives of three families from the shelters. They purchased beds, stoves and shipped three cartons of household goods for these families and made contributions to Lewis Punett Home and the Union Island Cultural Youth in Action group.
Under the motto 'Unity Our Goal, Service Our Aim', COSAGO works closely with the Vincentian community in New York to spearhead emergency drives to assist SVG in time of national disasters.
COSAGO and its member organizations have been making contributions to every aspect of the Vincentian community in SVG and in New York and for the past four years, have been contributing to the Nine Mornings Committee.