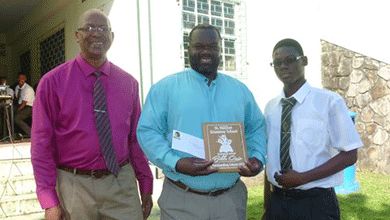 SVGS rewarded for being most outstanding school in 2015 SSBQ
The St Vincent Grammar School (SVGS) was this week rewarded for being the most outstanding school in the 2015 Secondary School's Bible Quiz competition. (SSBQ).
On Monday, the school received prizes compliments Allan Smith's Family Bakery, Right Stuff and the SVG Solidarity In Action Car Parks, along with the Jack family, the competition's organizers.
During a short ceremony at the school's compound, headmaster Curtis King and competition organizer Joel Jack commended the students on their achievements.
Jack told students that the competition provides incentives for young people of our nation to interest themselves in things spiritual.
"We believe that the Bible is the best book there is. That the fear of the Lord is the beginning of knowledge and if our young people stay close to God and his word, they will be blessed with good success."
He said that over the years, the quiz has given away about 90 Bibles, a number of other books and thousands of dollars in cash, gift-vouchers and other prizes.
Jack also announced that this year, some of the annual awards would be discontinued, but the value of the prizes for the monthly quiz would be increased.
Therefore, beginning this month, the monthly winners will receive a Bible, $200 cash from the organizers and a gift-voucher valued at $200, along with a wrapped gift for the parent from Acute Cosmetics.
"We trust that by so doing, many more young people in all secondary schools throughout the state will participate regularly," Jack said.
The SVGS had the most entries, thus edging both the St Joseph's Convent Kingstown (SJCK) and the Bishop's College Kingstown into second and third place, respectively.
With this being their fifth victory in the seven-year-old competition, prizes for the school included a cake from Allan Smith's Family Bakery, a plaque, compliments Right Stuff and $1,200, compliments SVG Solidarity In Action Car Parks and the Jack family.
The Distinguished Graduate Award, which went to the student who returned the best CSEC results after entering the quiz in 10 or more months, went to former SVGS student, Judah Smith. With his five grade ones and four grade two passes, he was adjudged winner and received EC $1,000, compliments Jehann Jack.
Smith, who is currently is studying abroad, asked his brother Joshua to collect on his behalf.(AS)