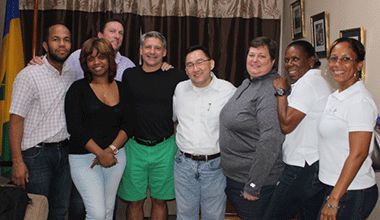 First WPP mission for 2016 hailed a success
The first World Pediatric Project (WPP) Mission to St Vincent and the Grenadines for 2016 has been hailed by local chief development officer Simon Carey as a complete success.
Two doctors (Dr Tae Kim and Dr Jeffrey Lukish) accompanied by nurses Sheree Dyer and Marybeth Pule, ably assisted by local medical professionals, provided free assessments to 32 youngsters, including one child from Grenada and another from Antigua and Barbuda, this past Sunday at the Milton Cato Memorial Hospital.
Ten of these children, including the Grenadian, underwent surgeries related to various medical complications, also free of cost, compliments WPP.
Issues related to umbilical hernias, circumcisions, hirschsprung disease and other ailments were dealt with by the team while here.
Carey indicated that the surgeries were a success, that the children were expected to recover fully and should be on their way to living healthier lives.
He also made the call for parents and businesses alike to join the "WPP Movement," by identifying children from newborn to 21 years of age who would benefit from the services provided by the WPP and supporting the various events that the WPP would be undertaking this year and beyond.
Eight more medical missions are scheduled to visit SVG over the course of the year to deal with complications related to cardiology, urology, neurosurgery, orthopedic scoliosis, general orthopedics, physical therapy and plastic surgery.