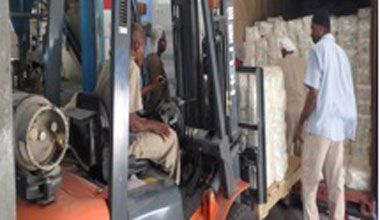 ECGC supports Erika ravaged Dominica
The East Caribbean Group of Companies (ECGC) and East Caribbean Bottlers Inc (ECBI), in a demonstration of solidarity and support for the people of Dominica, have donated three containers of products to the island, following the passage of Tropical Storm Erika, which caused widespread devastation to life and property there.{{more}}
The contents of the containers include rice, flour and animal feed. The donation has been shipped in care of the Dominica Export Agency.
The first container was shipped on Wednesday, September 9, just days after the storm. The second was shipped on Friday, September 11, from ECGC's sister company in Guyana, Caricom Rice Mills. The third container left on Wednesday, September 16. The shipping arrangement was facilitated by Tropical Shipping.
"It is hoped that this donation will serve to assist in the alleviation of distress in the wake of storm Erika. The Board of Directors, Management and Staff of ECGC, Caricom Rice Mill, and East Caribbean Bottlers, further extend deepest condolences to those who lost loved ones during the storm," a release from the companies said.
The Commonwealth of Dominica is a significant importer of products from St Vincent and the Grenadines, ECGC being the primary supplier.