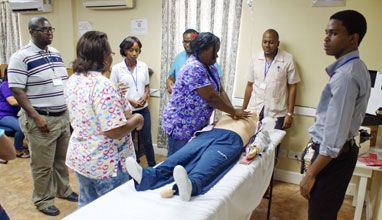 PAHO joins Trinity to offer advanced cardiac life support certification
The Pan American Health Organization (PAHO) has teamed up with the Trinity School of Medicine to offer the Advanced Cardiac Life Support (ACLS) certification to medical personnel at the Milton Cato Memorial Hospital (MCMH).{{more}}
Dr Conrad Nedd, site coordinator and lead instructor, said that on Monday, August 24, 2015, medical personnel from the MCMH began the Basic Life Support Certification. He explained that the ACLS, which goes beyond the basic CPR, is the certification following on the BLS. This was offered on Thursday, 27th and Friday, 28th, with both courses being certified by the American Heart Association.
In defining the elements of the training, Dr Nedd explained that, "In the case of BLS, one tends to treat the patient whose heart is not beating and performs CPR for that patient. When the Advanced Care Team arrives, however, not only should they be able to continue that Basic Life Support, but they should also be able to add on measures to help to resuscitate that patient." He, therefore, noted how much more involved is the advanced course.
"The ACLS is a set of protocols that are used to treat a patient who is at risk for cardiac death. It is about recognizing symptoms of heart disease and treating them. The protocols deal with the patient with chest pain, the patient whose heart is beating too slowly, the patient whose heart is beating too fast, and the patient whose heart is not beating at all."
Each participant expressed excitement at being included in the training.
According to Dr Ibrahim of the Trinity School of Medicine, "participants have all been quite interested and cooperative, despite the fact that it's a difficult and tiring programme so far, as they have to cope with so much information in two days.
"A lot of it has been new to them, but they have been trying their best to assimilate and accumulate the knowledge they are receiving; hopefully it can translate into a better emergency response, as they assess and assist patients they meet on a daily basis."
Each trainee received a total of four training manuals and was awarded a certificate at the end of the training, supplied by the Pan American Health Organization, which also provided meals for participants.
Dr Nedd explained that "Trinity has made emergency cardiovascular care now available in St Vincent and the Grenadines on an ongoing basis. We were able to establish here at Trinity a training corps under the American Heart Association, to provide this care, and therefore, we want to continue to make it available."
He said that many countries now make it mandatory for active health care workers in hospitals to be certified and to maintain certification as part of registration and licensure and expressed the hope that this will become the case in St Vincent and the Grenadines.
Six physicians conducted the training.