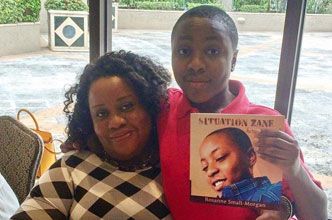 Rosie rides high with latest Autism advocacy book
Following the successful release of her book 'Situation Zane – Autism who knew?', Caribbean-American autism advocate Rosanne Small-Morgan, known affectionately as 'Rosie,' is making major impact with the masses, been in high demand for speaking engagements on the topic of autism and has even received prestigious accolades from political figures for her work with the cause.{{more}}
'Situation Zane' explores Rosie's 12-year time-span of experiences and overcoming challenges with her autistic son, Zane and offers readers substantial information and insight into the Morgans' lives in trying to cope with getting Zane the best possible services and care.
The success of the book has been a phenomenal and humbling experience for the St Vincent-born author, newspaper columnist, blogger, comedienne, wife and mother, as it has introduced her to hundreds of parents who are going through this very similar and unpredictable journey.
According to Rosie, "I am truly so shocked at how many parents are reaching out to me via my Facebook page and the number of individuals and organizations which are contacting me to collaborate. My family and I have been able to meet other children on the spectrum, network for support and services for these families as well as garner understanding and empathy from people who are not living in the life of autism for the families going through this daily struggle."
With its 'coffee table' format and many times humorous approach, 'Situation Zane' has intrigued readers globally with its diverse topics, promoted a serious message about autism and has been a helpful tool to start the conversation with some parents who would have been resistant to speak about their children and their struggles.
She has recently done speaking engagements in New York, Florida and has some upcoming opportunities in her homeland, the Caribbean.
Most notably, she was a featured speaker at the Footprints Foundations Literary Jazz Brunch at the Ritz Carlton, Florida and was a featured presenter at the NYC Department of Health's forum for Children with Special Needs 2015.
Along with the success of 'Situation Zane' and numerous requests for speaking appearances, Rosie has also received several prestigious honours for the book and her unparalleled work with autism. These include a citation from the Mayor of Hempstead Village, a certificate of Award from the Public Advocates Office of the City of New York and a citation from Senator Leroy Comrie's' Office (Queens, New York) for her work.
As an author and proud Caribbean woman and mother, Rosie aspires to get 'Situation Zane' into Caribbean bookstores, as well as primary and secondary school classrooms, where it would help and become a resource for so many other impacted families.
As a speaker and advocate, her goal is do more speaking engagements in the region and work directly in those specific communities to build awareness, understanding and guidance re: autism.
For bookings, speaking engagement requests and interviews on Rosie contact: nuconceptcc@gmail.com