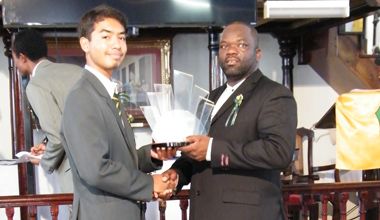 SVGS has 'changed us forever' – Valedictorian
"We have seen the rough ways, but we have not yet reached the stars!"
This, according to Christian Friday, valedictorian of the SVGS graduating class of 2015, as he delivered his speech last Wednesday at the Methodist Church.{{more}}
Friday recounted the graduating class's sojourn through Forms 1 to 5 of their alma mater, speaking about the ups and down they would all have experienced.
He referred to the trepidation many of them would have experienced when they first joined the school — making the leap from being primary school students to secondary.
He then fast-forwarded to their entry into Form 5, which he said brought with it the realization that life had become more serious.
"For the first time, we had to decide our own path. We had to take our own futures into our own hands and decide for ourselves what we wanted to do."
Addressing the 133 other graduates, Friday asserted that attending the SVGS had "changed them forever," as they had "not only withstood the fire but… are stronger for it."
Also mentioned were some of the challenges that they faced over the past academic year, which included the switching of Physics teachers in the middle of the term, the flooding of the Science Lab, which left them behind in completing their school based assessments, and the tragic loss of one of their own — Glenroy Michael — who was killed in the Rock Gutter tragedy on January 12.
Citing the school's motto — 'Per Aspera Ad Astra' — Christian urged his fellow graduates to continue striving for excellence in the face of whatever challenges may befall them; not only for their personal development, but also to serve as role models for those coming behind them.
"…It is through great pressure that coals become diamonds!" (JSV)