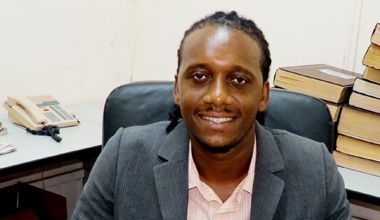 Her Majesty the Queen awards Vincentian with first ever Queen's Young Leaders Award
Her Majesty The Queen presented the inaugural Queen's Young Leaders Awards to four young people from Barbados, Dominica, St Kitts/Nevis and St Vincent and the Grenadines at a ceremony at Buckingham Palace, yesterday, Monday, June 22.{{more}}
Vincentian Kenville Horne was among 60 exceptional young people from across the Commonwealth who were recognized by the Queen for taking the lead in transforming the lives of others and make a lasting difference in their communities.
Kenville is a young father, who turned his back on a life of gangs. After completing his education, he started a sports programme for disadvantaged children in St Vincent and the Grenadines. He helps them to reach their potential and raises awareness of the danger of drugs.
The other awardees from Barbados, Dominica and St Kitts/Nevis were Donnya Pigott, Kellyn George and Javon Liburd.
Donnya had to overcome prejudice and personal challenges when she decided to set up an advocacy group for sexual minorities.
Barbados – Gays and Lesbians and All-sexuals Against Discrimination (B-Glad) is the lone lesbian, gay, bi-sexual and transgender (LGBT) human rights organization on the island. Donnya has engaged with the Prime Minister about issues facing the LGBT community and hopes to continue supporting marginalized young people in her country.
Kellyn was born with sickle cell anaemia and has endured many complications with her health. Her experiences motivated her to establish the Sickle Cell Cares Foundation in Dominica. The organization raises awareness of the disease and aims to help those who are affected to manage their health care as well as possible.
Despite facing financial hardship, Javon's single mother instilled in him the value of education. This inspired Javon to set up J3H, a project that helps young people in his community in St Kitts. J3H has raised funds to give prizes to outstanding students from village schools.
Before receiving their Awards at Buckingham Palace, the winners met the UK Prime Minister, David Cameron, at 10 Downing Street, visited the headquarters of global social networking company, Twitter, and met with senior executives at the BBC World Service.
Donnya Pigott said: "I am so happy to be one of the first recipients of the Queen's Young Leaders Award. To be recognized for my work and be presented with an award by Her Majesty the Queen at Buckingham Palace is such a huge honour. I can't wait to meet all the other Award winners in London and get involved in all the exciting activities that are taking place throughout the week."
This year's Award winners are aged between 18 and 29 and are working to support others, raise awareness and inspire change on a variety of different issues including; education, climate change, gender equality, mental health and disability equality.
Following the ceremony yesterday, Award winners are spending four days in the UK to take part in a residential development programme, as part of the Award prize. The programme includes workshops at Cambridge University, meetings with UK businesses leaders, and visits to life changing social action projects.
To see a full list of Award winners and Highly Commended runners-up, and read more about their stories please visit www.queensyoungleaders.com.
If you or someone you know is doing inspiring work like this year's Queen's Young Leaders, from 7 p.m. on Monday, June 22, you can apply or nominate someone for a 2016 Award at www.queensyoungleaders.com.