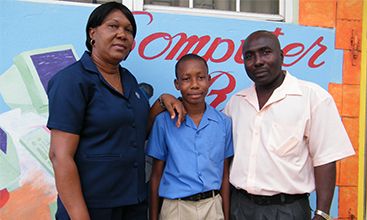 Donte Sam – second for boys and seventh overall
"We always believed in him because he has the potential to do great things!"
This was the proud assertion of the acting head teacher at the Georgetown Government School, referring to Donté Sam – one of the Caribbean Primary Exit Assessment (CPEA) examination's top performers.{{more}}
The 11-year old youngster spoke with SEARCHLIGHT on Wednesday, explaining that he was very pleased about his performance in the exams, which he sat last month.
"I feel very happy that I managed to position so highly, and did very well to make my family proud," he explained. "Everyone had high hopes for me."
Having placed second for boys and seventh overall, Donté achieved 94 per cent in Science and Mathematics, and 90 per cent in English Language.
Donté said that in the run-up to the examinations, he did not feel stressed at all, even though he was putting in extra effort with his revision.
"I just felt relaxed, because it was like a normal thing for me," he noted. "Throughout all the grades (classes), I normally study."
In addition to doing revision with his parents (Kendal and Donette Sam), Donté also took after-school classes given by some of the school's teachers, and received assistance on weekends from one of his class teachers, Mr Dos Santos.
With such high scores in Math and Science, it is little wonder that his career goal is to become a pediatrician. He also said that he is keenly anticipating attending the St Vincent Grammar School in September.
In his spare time, Donté not only shines in his academics, but also his leisure activities. He enjoys playing computer games with his friends, and also plays cricket, football and other sports. And unlike most boys his age, he can cook!
"I can cook rice and peas, and stewed chicken and so. Sometimes, for Sunday lunch I bake pie and all of that stuff."
During the long summer holiday, he plans to enjoy his down time by going to the beach, taking his first trip to La Soufrière, hanging with his friends, and also indulging in some fishing. Quite the fisherman, Donté said that he usually catches 'black neygah' fish and mullet – which he said are very tasty when fried.
SEARCHLIGHT also caught up with Donté's parents, Kendal and Donette Sam, who were elated at their son's success.
His mother Donette Sam said that she expected him to be one of the top performers because he is very dedicated to his work.
His father added: "He's quiet… when he comes from school he will always go straight and do his work first before he goes to play. He loves the computer, but he makes sure his work is done first!"
Acting head teacher at the Georgetown Government School Alasbour Williams described Donté as a "very independent learner" and reliable.
"When you give him an assignment, you know for sure if it's only one person in the class who will bring [the] assignment well-written, that's him. He's very into his research," noted Williams.
"The school is proud – I know his parents would be, too. He's one of those students whose parents are always involved in his education. From Kindergarten to Grade 6 – his parents were always involved…" (JSV)