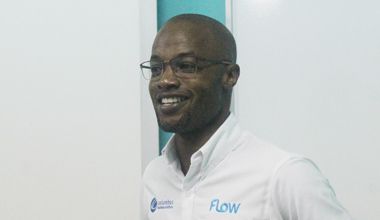 'We are here to serve customers 24/7 – FLOW
"We urge our customers, if there is any issue, whether on the older platform or the digital platform, please contact us. We are here to serve our customers 24/7."
This was the response of Corey Garrett, marketing and communications manager at Flow (Columbus Communications Ltd), to a customer who penned a letter of complaint in two newspapers last Friday.{{more}}
Castine Quashie, who spoke of the "poor reception" on some of the television channels offered on Flow's package, wrote: "The reception on some TV channels… is at times broken, poor and wholly unacceptable.
"I feel that Flow is aware of this situation, but is indifferent and uncaring to it. Rather than be silent on it, Flow should inform the public as to its cause and how it will be remedied. I write this open letter of complaint so that Flow cannot say that no one has complained about it."
Speaking with SEARCHLIGHT, Garrett said that Quashie's accusation of the telecommunications company being "indifferent" to the problem is totally unsubstantiated, because he never reported a fault to customer service.
"I actually spoke to Mr Quashie," explained Garrett. "He never reported a fault. If there is a fault, Flow will come to address the fault."
In meeting with Quashie, Garrett said that the customer acknowledged that he had not filed a complaint with the company, and should have done so to have the matter addressed.
"It's not a situation where the customer was ignored; we don't ignore our customers… What was actually ironic was that we had actually done some work in that area around that same week, but he never reported the issue."
Garrett is also refuting claims by members of the public that Flow is purposely neglecting the complaints of customers who still use the older boxes that were provided under Karib Cable's operations.
"We are not. The older KC [Karib Cable] boxes are antiquated technology and… that technology is no longer in production already… that box on that platform on that system will be phased out."
Garrett said that despite this, Flow technicians currently respond with the same urgency to customers who have old boxes as they do to those with the new boxes.
"There is no partiality to the customers with an older box or with a digital box. All our customers will be treated with the highest priority at the end of the day," he assured.
He also pointed out that the new boxes are the "way forward", and have new, more advanced features that will enhance the customer's experience while viewing cable television. (JSV)