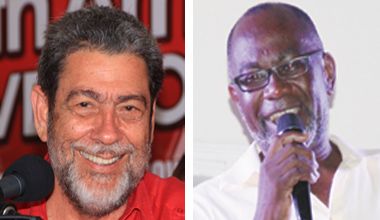 Gonsalves defends Leacock
Prime Minister Dr Ralph Gonsalves is asking persons to desist from making suggestive comments about the representative of Central Kingstown, St Clair Leacock, when speaking of the recent indictment of Trinidad and Tobago's Independent Liberal Party leader, Jack Warner.{{more}}
Addressing Parliament last Friday, Gonsalves said he had observed that persons were commenting on local radio that Leacock was a partner of Warner.
"In the context of which it is said; it is a different thing if you throw a joke at somebody in the personal kind of situation, but broadcasting on radio, on any medium, really goes far and wide [and] can damage somebody by association," the Prime Minister said.
Last Wednesday, Warner, a former vice-president of the Federation of International Football Associations (FIFA) and former CONCACAF president, was indicted by US officials in connection with corruption allegations linked to FIFA. He was among 14 high-ranking FIFA officials who were charged last week with racketeering, wire fraud and money laundering conspiracies and other offences, in a 24-year scheme designed to profit from international football through illegal means.
Gonsalves, who is a lawyer by profession, noted that Warner is entitled to the presumption of innocence. He further observed that to mention that someone is Warner's friend, in light of the recent development, is meant to damage their character.
Leacock served as president of the St Vincent and the Grenadines Football Federation several years ago.
The Prime Minister commented that Leacock, who is an Opposition member of Parliament, may be surprised that he is defending him, as he often goes into Leacock's constituency to campaign against him.
"To use it as a stick with which to beat by innuendo, the member for Central Kingstown, it is plain wrong and I'm urging all persons to desist from that sort of thing," Gonsalves said.
"We have a candidate for Central Kingstown and I would like to see him win and not the current parliamentary representative, but that doesn't mean that you have to go out of your way to damn that person."
Gonsalves pointed out that there have been campaigns built against him based on falsehoods and innuendos.
While he expressed the belief that ordinary people would not "buy into that foolishness," he said it does not mean that the necessary means should not be used to put a stop to it.
He added that politics is often referred to as a "blood sport," but urged that this metaphor should not be taken literally to try and draw blood.
"I'm just urging that we be careful, and not to sully our country and its good name," the Prime Minister said.
"And that what has come to my mind is the unfairness of this particular matter which has been levelled on the member for Central Kingstown. It is completely unfair, wrong."(BK)