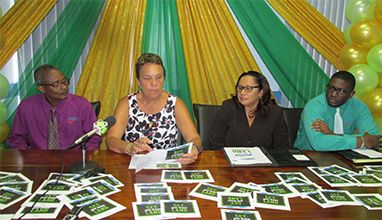 'Penny Bank' making it easier for Vincentians to own land
Vincentians desirous of owning piece of land are being given the opportunity to do so without having to make a downpayment, by the St Vincent Cooperative Bank.{{more}}
Last Wednesday, the Bank, also known as the Penny Bank, launched a new mortgage fund "Dream Land," as part of that financial institution's 70th anniversary celebrations.
Laverne Velox, the general manager of the Bank, said they understand that land ownership and building a nest egg is an important part of the lifetime aspirations and personal security of Vincentians.
She said at the St Vincent Cooperative Bank, they believe they have a responsibility and duty to our young people to support them in owning land to enable them to build a better life for themselves and their families.
Velox said the Bank will provide 100 per cent financing of up to $70,000 to all qualified borrowers at an annual interest rate of seven per cent for up to 10 years.
"We hope that this fund will enable young professionals and ordinary working people, from farmers to construction workers, to chefs, mechanics and our teachers to feasibly become landowners. To create their own nest egg and live on their own, dream land. An aspiration which, we believe, should be achievable for all."
The St Vincent Cooperative Bank began operations in 1945, as a penny bank, with the prime objective of ensuring that banking facilities, such as mortgages and savings accounts, were accessible to Vincentians from all strata of society, but moreso to people who did not feel comfortable approaching the international banks for financing.