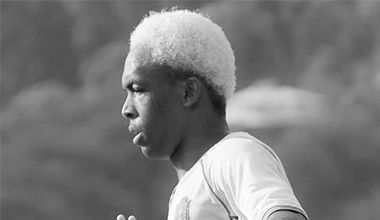 Oalex Anderson – putting SVG on the map for international football
"Continue training, work hard… don't be swell-headed. Academics are important. Set goals for yourself, and don't let anyone tell you [that] you can't do something!"{{more}}
This is the advice that 19-year-old Oalex Anderson is sending out to youngsters who wish to follow in his footsteps, pursuing a career playing professional football.
Anderson, who is from Barrouallie, was signed to United Soccer League (USL) club Seattle Sounders FC 2 earlier this year, after he impressed the club's coach Ezra Hendrickson – a fellow Vincentian.
He made his debut for the club on April 11, when the team took a 2-1 victory over Portland Timbers 2. Then, on May 15, Anderson scored his first goal for the club in a 3-1 victory over Oklahoma City Energy.
And the goals have kept coming.
This month, Anderson was called up to play for the SVG Under-23 team against Dominica in the 2015 CONCACAF Men's Olympic Qualifying Championship, and also for the senior squad against Guyana for the opening round of the 2018 FIFA World Cup qualification.
In both matches, Anderson scored goals, helping his teams win, and sending SVG through to the next round of qualification.
Anderson, who started playing football at the tender age of 5, said that his father, Alex Anderson, was his main influence to get involved and pursue the sport, as he himself is a footballer.
And the passion for football seems to run in the family, because he has uncles and cousins who also play, and one of his three sisters is also a footballer.
Anderson's contract with the Seattle Sounders is for one year, but he hopes that this will eventually lead to him being picked up by a first division team within the USL.
Speaking with SEARCHLIGHT, Anderson said that adjusting to life in the US has been quite challenging because of the cultural differences and the weather, but he won't let it get the best of him.
"It wasn't easy," he confessed. "I had to adapt to a lot of stuff… but as it goes along, it kinda gets easier. I'm getting to know people and my teammates better."
He also said that when he first joined the team, he had to work hard at getting his fitness level up to par with his teammates, and during training he broke a finger. But despite it all, he is happy pursuing a path that he is passionate about.
Anderson plans to return to the US in mid-June, where he will continue training and playing with the Seattle Sounders, and continue developing his talent to its full potential.
He also said that he is extremely grateful to his former coach, Ian Sardine, for nurturing his talent and taking him from playing football in Barrouallie to playing on a national level.
"He's the one that took me out of Bagga… built me," he recalled. "He was the first person to take me outside of the country to play football."
Although football is his main focus, Anderson said that he hopes to pursue academic studies in Agriculture and Business at some point in the future, as these are areas that he is quite interested in.
In the meanwhile, he continues to inspire football-loving youths all over the country, and especially in his community. Anderson said that wherever he goes, he always encounters youths asking him for advice in their own footballing pursuits and is always eager to give them the benefit of his knowledge.
As for his own inspiration, Anderson is determined to emulate similar success to his football hero Cristiano Ronaldo – a Portuguese forward who plays for Real Madrid CF and the Portugal national team.
Anderson has been ranked among the top goal scorers during the 2014 Caribbean Cup qualification, scooped the league's top scorer accolade in the top tier of local football, and has played for six months with a team in the Antigua and Barbuda Premier Division.
"My aim is to play in the English League," he asserted.
And with his determination and successes thus far, there's no reason why he shouldn't achieve this and more.(JSV)