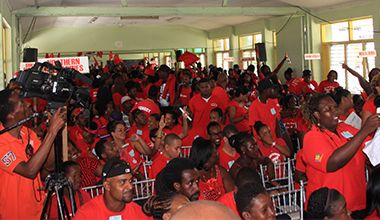 My government will trust the young people – Gonsalves
Prime Minister Dr Ralph Gonsalves says rather than looking at the nation's youth as problems to be solved, they should be seen as the heart of the solution for St Vincent and the Grenadines.{{more}}
Gonsalves, whose Unity Labour Party (ULP) is seeking a fourth term in office, was at the time addressing the party's Youth Arm Convention, at the Thomas Saunders Secondary School on May 24.
The convention was held under the theme: "Empowering our Youth."
During his speech to a room full of energized young men and women, Gonsalves accused the New Democratic Party (NDP) of viewing youths in a negative light.
"There's a perspective on youths that is embraced by the NDP, in deeds and frequently in their words and attitudes. They see young people as a problem to be solved.
"When you hear them talk, they talk about young people these days. They get involved in so much worthlessness. They say young people involve in so much crime. They say young people more disrespectful than any other time in our history.
"When you draw up the balance sheet, the young people are not a deficit. They are an asset. When you draw up a balance sheet, the young people are not about weaknesses, they are about strength. The young people are not about limitations, they are about possibilities," Gonsalves said.
According to the Prime Minister, who recently celebrated his 14th year in office, unless a leadership puts trust and faith in young people, they can't put trust and faith in St Vincent and the Grenadines.
Gonsalves also spoke about providing the opportunity for students whose parents have financial constraints to access economically disadvantaged student loans.
"The ULP said that we will make sure that the Minister of Finance signs as guarantor for every single loan. And that if you don't pay it back, the Government will pay it back… Arnhim Eustace and the NDP said they won't pay it back.
"On the basis of human experience with these loans, in other areas, you may have 20 per cent that don't pay back. I said, why must I punish 80 per cent of the young people because 20 per cent wouldn't pay back. I said this government will trust the young people. We believe that they will pay back and they have been paying back," Gonsalves added.
He said since 2002, he has signed guarantees amounting to nearly $90 million in the aggregate for young persons to pursue university studies.
"So, the youths of this country have to be seen as assets stuffed with strengths and possibilities and at the heart of the solution of the problems and difficulties which may exist in this country… They would want to lock up the spirit of young people, but labour want you to soar like eagles and fly," he added.
Also in his speech, Gonsalves said young people are not a group of people who are just interested in pleasure for the sake of it.
"No! They are serious people. I know a lot of young people who going to school, who have to help take care of younger children while their mother is out of the country or somewhere else trying to bring in a bread to help the family because the father may not be around," he added. (KW)