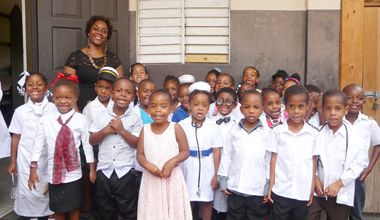 Petersville Primary School holds first Career Day programme
The Petersville Primary School held its first ever Career Day programme on Monday this week, under the theme: "Believe and you will achieve."
Coordinator of the programme Michelle Knights said the day was aimed at showcasing the many different career opportunities the world has to offer to our youths.{{more}}
The students were well attired, depicting the various occupations they would like to pursue in the future.
Guest speaker at the event, education officer with responsibility for career guidance Kathleen Jeffers briefed the audience, particularly the students, on the importance of early career guidance. 
She told the students that what they choose today may not be what they will be in the future, but emphasized the need to start thinking of career choices now and not to wait until they are older.
She also spoke about the different subjects done at school and how they relate to the various occupations.
Also present were officers from the Fisheries Division who enlightened the children about the different methods of fishing in SVG, species of fish and other sea animals, like the lobster and the turtles.
Students learned about conservation in relation to protecting our sea animals. During the day the students made presentations in their classes explaining their careers; some presented in the form of a skit. The day was well attended and students were quite happy with the events.