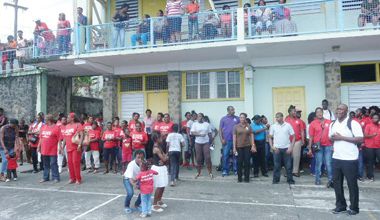 DCP Hadaway appeals to parents to partner with Police
Deputy Commissioner of Police (DCP) Reynald Hadaway is appealing to parents throughout the country to continue to partner with the police and other relevant organizations engaged in initiating outreach programmes, which are designed to steer them away from a life of crime.{{more}}
Hadaway made the appeal at the Pan Against Crime Gospel Concert held at the Richland Park Hard Court on Sunday, May 17, attended by a number of youths drawn from the Richland Park community and its environs, as well as from Police Youth Clubs from across the country. Students engaged in the Pan Against Crime steel pan programme were also in attendance.
"Parents, guardians, I am certain that you can attest to the positive impact of our programmes on your children lives over the years. We are therefore, asking you to continue this very important partnership. We are asking you to give us the opportunity to work with your sons and daughters and you will have no regrets," said Deputy Commissioner Hadaway.
He challenged the parents in attendance, as well as those listening via radio, not to neglect their children and to give them all the necessary support needed to develop their true potential.
"Do not fail in your parental responsibilities. Do not fail us. Let us all work towards making St Vincent and the Grenadines a safer place for all of us," said Hadaway.
Hadaway said the Royal St Vincent and the Grenadines Police Force, in collaboration with the Pan Against Crime Committee, National Commission and Crime Prevention and other social partners, continue the drive to prevent young people from gravitating towards crime and violence. He said it is the goal of these entities that the youth will become men and women of tomorrow, who will lead very positive and productive lives.
According to Hadaway, crime and violence are social evils that impact negatively on communities. He said many are left stigmatized and scarred for the rest of their lives as a result of the scourge of crime and violence. Hadaway also noted that there are people who even find it virtually, impossible to turn their lives around.
Against this backdrop, he said the Royal St Vincent and the Grenadines Police Force has undertaken its outreach programmes, in its effort to steer our nation's youths away from criminal activities. "This, we hope, will continue to strengthen and further develop sound social and moral values amongst the young people of this blessed land," he added.
DCP Hadaway used the occasion to recognize the efforts of Assistant Superintendent of Police Jonathan Nichols, who is now on pre-retirement leave, but played an instrumental role in organizing several outreach programmes during his tenure put on by the police and the Pan Against Crime Committee.
The Richland Park Police Youth Club was launched at the event, attended by Prime Minister Dr Ralph Gonsalves and Deputy Prime Minister and Area Representative Girlyn Miguel. (Police Public Relations)