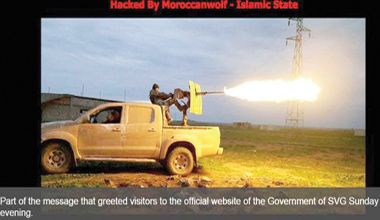 Government emails not compromised during hack
The official email server of the Government of St Vincent and the Grenadines was not compromised when the government's website was hacked last weekend. {{more}}
This was disclosed by Prime Minister Dr Ralph Gonsalves earlier this week, as he commented about the hacking incident that took place last Sunday evening.
Persons visiting www.gov.vc on Sunday evening were greeted with an image of an individual operating a machine gun on the back of a truck. A message, "Hacked by Morrocanwolf – Islamic State".
Below the image, the following message appeared: "US and NATO Forces are involved in Organised butchery of Human race since it's inception. They overthrow governments of sovereign nations and they undermine, threaten, refuse to recognise and seek to destroy democratically elected governments like they are in Syria, Iraq, Gaza, Palestine.
They support dictators as long as they are fulfilling US, EU & NATO interest in the region like they did in Pakistan and Saudi Arabia. You speak of Freedom of speech and freedom of expression but you remain silent in the face of a people desire to seek freedom to exist – unless those people are Israeli Zionists! Hypocrisy of this magnitude will bring the chickens home to roost and not peace and security as is your mantra!"
"It hasn't, as I have been advised, compromised us. I have been assured that all our e-mails and everything is intact and so on and so forth. Yesterday, the ministry of technology officials brought me up to date about it," the Prime Minister said during a press conference on Tuesday.
Gonsalves stated that permanent secretary in the ministry of information technology Nathaniel Williams was the first to inform him of the incident on Sunday night. The prime minister said that he advised him to report it to the minister of information technology Camillo Gonsalves, who was in Ecuador at the time.
The Prime Minister noted that it was necessary for everyone who has diplomatic relations with this country to be informed of what had happened and so when he received a call from Ambassador to the United States, La Celia Prince, he urged her to make contact with persons in the State Department, because of the anti-US commentary that was posted in the hacking message.
This country's permanent representative to the United Nations (UN) Rhonda King was also informed and advised to inform all members of the UN.
"They would have known that it was a hack, but still nevertheless we have a duty," the prime minister said.
Gonsalves told reporters that the Ministry of Information Technology will make a statement when new information has been discovered.
On Monday, the information technology minister told SEARCHLIGHT that he expects to receive a full report of the hacking incident by today from his staff, which he hopes will address the means of penetration of the website; whether other data, emails or resources were compromised; the security measures that were in place at the time of the hacking (and why those measures failed); the measures that need to be put in place going forward (and the cost involved); and any information regarding the source of the attack or the identity of the attacker.