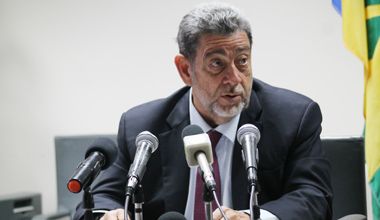 EU rolls out EC$21 million to SVG for rural infrastructure development
Road networks in St Vincent and the Grenadines stand to get some much needed attention, following an EC$21 million injection from the European Union (EU).{{more}}
This week, EU ambassador to Barbados and the Eastern Caribbean, Mikael Barfod visited St Vincent and the Grenadines for the signing of the 11th European Development Fund (EDF).
At a press conference on Tuesday, Barfod noted that this country will use its allocations of funds under the 11th EDF to improve rural infrastructure and not for health as it had been doing for the past six years.
"We are going to support, as far as the EU is concerned, the authorities of St Vincent and the Grenadines in their effort to improve the rural infrastructure of the country. About EC$18 million will be spent over the next years to improve climate change resilience of the road networks and at the same time, we'll contribute to the stimulation of economic activity in the rural communities and EC$1.8 million will be spent on helping national authorizing officers and team in St Vincent where we also have the technical corporation facility which will facilitate small actions in support of the bigger programme," the ambassador said.
Barfod stressed that the EU was keen on supporting rural growth and it is expected that the Ministry of Works would provide high quality coordination with other supporting entities.
He also pointed out that the government should provide adequate contribution in kind or otherwise to cover the full cost of the intervention, adequate technical capacity at all levels and qualified contractors to participate in tendering processes.
Additionally, the ambassador highlighted that the EU is committed to helping small island developing states and expressed hope that their partnership with St Vincent and the Grenadines will continue to grow and be extended to more regional and international issues.
Prime Minister Dr Ralph Gonsalves conveyed his gratitude to the EU for continuous support given to this country. He noted that under several programmes of the EU, St Vincent was able to receive EC$39 million for the rehabilitation process following the 2013 December Flood disasters.
"The European Union is one of the principal sources of grant funding for St Vincent and the Grenadines. We do not look to the European Union and we cannot look to the European Union alone to assist us with our developmental programmes, but their assistance is critical," the finance minister said.
"This is a good package and I want to thank the European Union. … the European Union, … some of their countries [are] having economic difficulties and we are very grateful for these grants.
"We have a lot of partnership, we work together, and we share a lot of values, social democratic values. Of course we have differences, friends will always have differences but it's the way in which friends address these differences within interest of ourselves… and move forward," Gonsalves said.(BK)