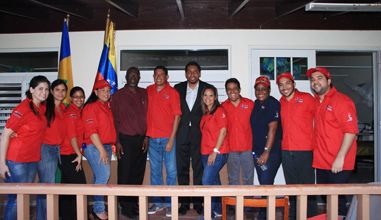 Vincentians to travel to Venezuela for specialized eye care
Close to 300 persons suffering from various eye conditions have been selected to travel free of cost to the Bolivarian Republic of Venezuela in the coming weeks, to be treated for two specific eye conditions.{{more}}
This was disclosed by Minister of Foreign Affairs Camillo Gonsalves, on Friday, April 24, during a brief press conference at the Georgetown clinic, where a group of medical professionals from the South American country were conducting eye examinations "as part of the government's mission to promote and protect the well-being of its citizenry, in particular persons suffering from vision related diseases."
In his address, Gonsalves said since the implementation of the 'Vision Now' eye surgery initiative back in 2004, over 4,000 Vincentians have travelled to Cuba for eye surgeries.
"That is a phenomenal number when you consider the population of St Vincent and the Grenadines is only a little over 100,000 people. For the sight that has been restored over the past decade, we are exceedingly grateful…," Gonsalves said.
In making the mission a reality, on Tuesday, April 7, a memorandum of understanding between Venezuela and St Vincent and the Grenadines was signed for the 'Miracle Vision' programme to be facilitated by the South American nation.
According to Gonsalves, the Miracle Vision programme is a continuation of the effort that has already helped to save or prolong the vision of Vincentians.
He said, since the start of the mission on April 18, 784 persons were screened across the country and of that figure, 214 have been identified for travel to Venezuela for surgical intervention.
"I have been advised they'll see over 100 people today and already roughly 30 patients from this visit to Georgetown have been targeted for travel to Venezuela for surgery," he said, adding that the patients will stay in Venezuela for up to three weeks.
The conditions that will be treated in Venezuela are cataracts and pterygium, which is a fleshy growth on the eye.
Since their arrival in the state on April 18, 2015 the medical experts conducted eye examinations at the Milton Cato Memorial Hospital, the Barrouallie Health Centre, Bequia, Union Island, Mesopotamia, Georgetown and concluded at the Milton Cato Memorial Hospital on Saturday, April 25.
Co-ordinator of Miracle Mission, Dr Adrian Silva, told reporters that the Miracle Mission team are grateful for this country's co-operation and the logistics that have been taken place for the mission. Silva said for the first time, they are incorporating technologically advanced equipment to carry out the tests. He said they have been carrying out a scientific study that is allowing them to determine what treatment to implement for affected persons. He said the equipment used by the team allows them to prepare the logistics necessary to assist Vincentians with the requirements for the surgical intervention.
Adith Leon, the person in charge of logistics, said the Venezuelan Government in collaboration with the Government of St Vincent and the Grenadines, will make all the necessary arrangements for patients to travel to Venezuela. She further added that arrangement will also be made for persons accompanying patients.
Minister of Health and the Environment, Clayton Burgin and Neeka Anderson-Isaacs, communications officer, also delivered brief remarks.(KW)