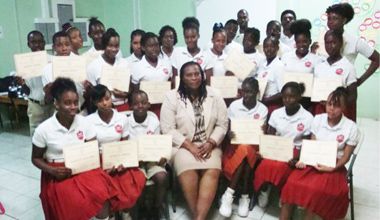 Peer group launched at North Union Secondary School
A group of peer counsellors has been established at the North Union Secondary School as one of the responses of the school to the Rock Gutter tragedy which took the lives of four of their students three months ago.{{more}}
Last Thursday, April 23, the group of keen, energetic, zealous and effervescent teenagers were presented to the school as trained peer counsellors.
A release from the school said last week's launch is part of a process that began following the Rock Gutter tragedy.
"Following consultation with the principal, staff and counsellor of the school, the initial ground work was theorized. However, it was not until Miss Vita Franklyn of the Family Court came to the school, for nine weeks of practicum, that the initiative got off the ground," the release said.
"Miss Franklyn immediately hitched on to the idea as a project to be accomplished as part of her assignment, and the group was organized. Additionally, Mrs Nichols and Mr Jack, teachers of the school, were brought on board as mentors and spiritual guardians of the group."
According to the release, many hours of intensive training and assimilations in the basic theories and techniques of counselling were undertaken, and the youths were just eager to grasp and learn. After 10 weeks, at the end of Miss Franklyn's stint, the group was passed out as peer counsellors of the school.
At the graduation, the group participated in a skit on helping a suicidal teen, and they sang the song by Donnie McKlerkin, "Yes, you can." They were also presented with certificates of participation.
Several persons made brief remarks of blessings and goodwill to the group, including principal St Clair Da Santos, counsellor Edward Smith and mentors Mr Jack and Mrs Nichols. The main speech was delivered by Miss Franklyn, who challenged the young people to realize why they were chosen, and be examples to their peers.