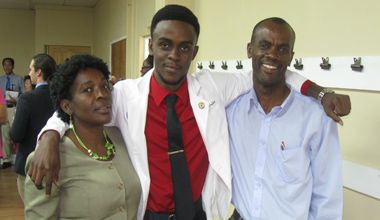 National scholar graduates from Trinity School of Medicine
A 2011 National Scholar graduated from Trinity School of Medicine on April 21, in the school's 2015 Student Clinician Ceremony. The activity was held at the institution at Ratho Mill.{{more}}
After Kenvorn Cuffy of Chili Village, Georgetown, placed in the top six positions in the 2011 advanced level exams and was awarded a national scholarship, he chose to pursue his dream of becoming a doctor at Trinity School of Medicine here in St Vincent and the Grenadines.
Reflecting on his journey at the institution, he explained that he found the programme "manageable".
"The work content was not difficult, it is just that the work load is great. If you put in the work, it will be manageable."
Trinity is the first four-year medical school to be established in St Vincent and the Grenadines. Its students complete 10 terms before they move on to residency at hospitals in the United States. During the first five terms, they study basic sciences like Anatomy, Physiology, Biochemistry, Microbiology, Pathology, Histology, Neuroscience, Pharmacology, and Introduction to Clinical Medicine, which is facilitated at the Milton Cato Memorial Hospital. On completion of these, they write the National Board of Medical Examiners (NBME) Comprehensive Basic Science examination, an extensive exit exam which gives approval for students to write the United States Medical Licensing Examination (USMLE) Step 1.
For the next five terms, all students do clinical rotations in Family Medicine, Psychiatry, Pediatrics, Internal Medicine, Surgery, Obstetrics and Gynaecology and some electives, after which they sit the USMLE Step 2 Clinical Skills and Clinical Knowledge for permission to practise as residents in the United States.
As for his expectations, Kenvorn hopes to successfully complete his USMLE Step 1, then proceed to rotations. He is not yet sure of his area of specialty but, upon completion of his studies, he hopes to return to SVG to give service.
"I want to contribute. It is my country that gave me the opportunity, so giving back is my long-term goal," he stated.
Kenvorn is the son of Kenrick Cuffy, deputy principal of the Sandy Bay Secondary School and Verna Cuffy, a civil servant employed at the Treasury Department.