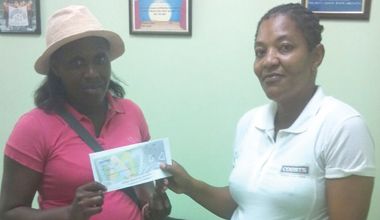 Chateaubelair resident is third winner of Courts 'MABE takes care of you campaign'
Kimesha Findlay is looking forward to the next stage in her quest to become Courts' "MABE takes care of you" campaign grand prize winner.{{more}}
The Chateaubelair resident is the third winner of the US$200 prize of the preliminary round, which rewards one lucky customer per week, for their purchase of any MABE appliance valued $999 or more.
Findlay revealed that she was very excited when he got the news that she was last week's winner.
"I shouted for joy because I have never won anything. This was unexpected, but good news."
Findlay had purchased a refrigerator one week before, and although she has not made any plans for the money she has won, she definitely has an idea of what she would like to have with $11,000 worth of items of her choice.
The pastry chef, employed at the Buccament Bay Resort, said that she is looking forward to owning a washing machine, as well as bunk beds for her children, and other items that she dreams of owning.
The long-time customer of Courts says that she intends to continue shopping at Courts, and made the call for others to do the same.
"Courts is the best place to get all of the home items you need. They are definitely value for your money."
Two more lucky winners will walk away with the US$200 cash, plus all purchasers of a MABE product would be in the chase to have their dreams come true.
To qualify for the draw, Courts customers must purchase any MABE product valued $999 or more, and can win the dream of their choice, from vacations, room make-overs, parties, shopping spree, groceries etc. The campaign runs until May 9.