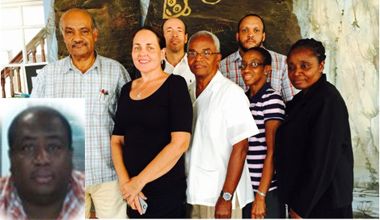 National Trust elects new Chairperson
The St Vincent and the Grenadines National Trust (The Trust) held its Annual General Meeting on Wednesday, March 25, 2015 at the National Trust Secretariat, Heritage Square, Kingstown. A short documentary on the removal of the Argyle petroglyphs was screened, followed by the presentation of reports from chairperson Louise Mitchell-Joseph and from treasurer Apollo Knights. A new Board of Trustees was elected to serve for a period of three years.{{more}}
Vidal Browne is the new chairperson, Deirdre Millington-Myers is the deputy chairperson and Apollo Knights is the treasurer. Other trustees are Morrison Baisden, Descima Hamilton, Louise Mitchell-Joseph, Osei Morris and Kent Minors.
A release from The Trust said the organization will continue its work as mandated to conserve the heritage of St Vincent and the Grenadines.
"The Trust anticipates continued support from the nation for the upcoming projects and extends an invitation to the general public to take up membership and become involved in conserving our heritage," the release said.