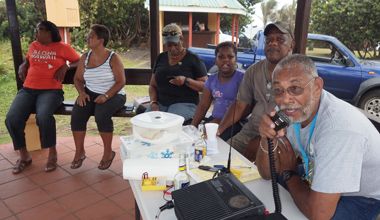 Local hams celebrate World Amateur Radio Day
by Donald De Riggs
Over 20 local radio amateurs or hams, as they are called, converged at the Rawacou recreational site to observe World Amateur Radio Day, along with hundreds of other hams around the world on Saturday, April 18, 2015.{{more}}
Two High Frequency (HF) stations were set up and contacts were made around the Caribbean, as well as Slovenia, Ireland and the Canary Islands, among others. The annual activity is in commemoration of the founding of the International Amateur Radio Union (IARU) and is designed to continue to create friendship among radio amateurs, as well as give the general public the opportunity to observe and be part of an exciting hobby, which has important functions in post-disaster situations requiring communications.
Besides making contact with other stations around the world, it was also a pleasant social outing, with some hams firing up a BBQ pit, while others roasted breadfruit and stewed some ribs and chicken, Vincy style.
Cooperation to stage this public outing came from the NTRC, who supplied a case of bottled water for the participating hams, printing all the flyers and information pamphlets for the event and the National Parks Authority which provided free access to the Rawacou Recreational Park for that day only, to allow the general public to be part of the WARD activity. This activity was conducted as an initiative of the Rainbow Radio League Inc (RRL), which is currently celebrating its 20th anniversary of service to SVG and the wider region in the area of emergency communications and mass casualty management.
According to the director of the RRL, Donald De Riggs, the next public event is expected to be a public exhibition of amateur radio to coincide with the start of the 2015 hurricane season, designed to heighten public awareness about preparedness for the upcoming storm season.