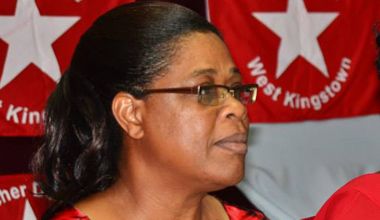 ULP West Kingstown candidate pledges loyalty to people
Unity Labour Party (ULP) candidate for West Kingstown Deborah Charles says that she intends to forge on with the policies of her party, as she aims to return the constituency "back to the fold" on the night of the next general elections.{{more}}
Charles was selected by the ULP constituency selection committee last Saturday, to represent the party in its bid to wrest the strategic seat from New Democratic Party (NDP) incumbent Daniel Cummings, who defeated Michelle Fife five years ago.
The seat had previously been held by former ULP representative René Baptiste since 2001.
A teacher for the past three decades, Charles told party supporters at the Kingstown Government School that she brings an element of discipline and a firm commitment to God, coupled with national pride, to the table.
She told the gathering that she is determined to work in the best interest of the people, and at the same time commit to the guiding principles of the party and government.
"I know that some may ask, why politics, and why now. Let me say that now is as good a time as any. I believe that representation is paramount, in politics. It is the first job of the elected representative," Charles noted.
"After 30 years of representing children, going into their homes, into rivers and sometimes to the courts, in the interest of our children, I think that it is time for me to align myself publicly with the party that has taken these little rocks on which we live on a journey. A journey that is the envy of many of our Caribbean neighbours."
Debbie, as she affectionately called by many, said that she fully endorses the Education Revolution, the Government's health care policy and housing programme, as well as the construction of the Argyle international airport, which she agrees, has the potential to spur economic growth through agriculture, industry and tourism.
Charles called for supporters to encourage others to embrace the proactive administration that is being encouraged by the ULP, instead of the Opposition NDP's "reactive and regressive" leadership.
"I bring you my loyalty, not just to the party and its policies, but to you, the people, to be here with you, no matter what the future brings. I am committed to representing you, committed to working in your best interests, while at the same time, committed to seeing the policies of this great organization propelled forward."