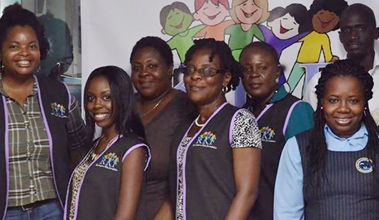 Trinity School of Medicine raises funds for charitable foundation
The Society of Medicine and Surgery (SMS) at Trinity School of Medicine has come up with an idea for raising funds to donate to a charity here in St Vincent and the Grenadines.{{more}}
Medical student Brielle Marks, executive board member of SMS, explained that she found out about the local charity called 'Kourageouz Kidz Foundation' online. She liked its cause and shared its philosophy and work with the members of her group. A decision was then made to provide support.
Kourageouz Kidz Foundation is a charitable, non-profit organization founded on May 2, 2013, geared at assisting disadvantaged children in St Vincent and the Grenadines, through an assortment of campaigns and programmes. These include 'Bags of Love', which is the distribution of school bags filled with basic supplies at the beginning of the academic school year; 'Kourageous Hearts Campaign', the delivery of birthday gifts to all registrants; 'Kourageous Christmas', the supply of Christmas gifts to all registrants; ' iFeed Campaign', the supply of groceries on a monthly basis, in severe cases; 'Little Angels Campaign', visiting with sick children at the various hospitals; 'iLearn Campaign', the provision of scholarships and bursaries to students; 'Healthy Kids Campaign', providing health tips, organizing sporting activities and so on, for children.
With a goal to raise as much money as possible and to have fun while doing it, the Society of Medicine and Surgery at Trinity, on Saturday, March 28, organized an in-house basketball competition and Field Day games to raise funds to assist in the provision of school supplies for the Foundation, for the upcoming school year. "Since we are all academics as well, we felt that we should help provide the opportunity for children to get a strong education," Brielle Marks explained. Student Janel Bakou, clinical coordinator of SMS, was also instrumental in organizing the activity. She is also excited that students will receive back-packs filled with school supplies for the new school year.
Funds were raised when each competing team registered for the competition with a monetary contribution. For the Field Day games, individuals were asked to pay to participate. Food was also sold to the participants. Eight teams, including a faculty team, registered at EC$45 per team. Also, a visiting team of police officers played an exhibition game. The Society of Medicine and Surgery were able to realize EC$600 from their endeavours.
The winner of the basketball competition was the three-man 'Blood Brain Barrier' team comprising Patrick Jacobs, Gianna Guzzardo and Robert Yousif.