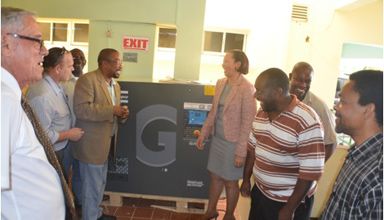 MCMH receives oxygen compressor from Rotary Club
The Rotary Club of St Vincent, last Thursday, donated a brand new Atlas Copco model GA7-7.5-50AFF oxygen compressor to the Milton Cato Memorial Hospital as a replacement for one that was damaged by the floods of December, 2013.{{more}}
The compressor was received by the hospital administrator Grace Walters and technicians working at the hospital. Walters thanked the president and members of the club present for such a timely intervention, as since the previous one was damaged, the oxygen needed for the hospital had to be outsourced.
Dr Collin Boyle, president of the Rotary Club of St Vincent, reiterated his club's commitment to working with the different communities in St Vincent and the Grenadines to assist in whatever way the club can to improve the lives and well-being of the people of these communities.
He informed the gathering that it was with great pleasure that the club is able to make the donation, knowing that it would serve a useful purpose.
He also thanked Tropical Shipping and the firm's country manager, Cedric McIntyre, who is a past Rotarian, for giving the club a 50 per cent discount on the cost of shipping the compressor from New York to SVG.
The total cost of the compressor is EC$30,000, plus discounted freight cost, amounting to just over $1,800.