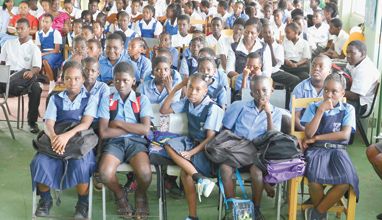 St Clair Dacon Secondary launches Language Week
The Modern Languages Department of the St Clair Dacon Secondary School (SCDSS) held yet another successful week of activities from March 16 – 20.{{more}}
The week, which was launched on Monday afternoon, under the theme "It Takes A Community," saw early childhood centres, primary schools, parents and other community members marching from the Stubbs Polyclinic to the school, located in Carapan.
Other activities for the week included a Literacy Day, a 'Read Aloud' competition in Spanish for third form students from North Union Secondary, George Stephens Sr Secondary, Georgetown Secondary and of course, the host school.
There were also internal Inter-Year Reading and Spelling B competitions. Support for the week of activities was offered by various businesses, special groups and individuals.