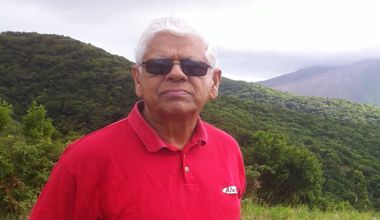 Oscar Ramjeet publishes memoirs
Well-known Caribbean attorney/journalist, Oscar Ramjeet, who served as Solicitor General and acting Director of Public Prosecutions in St Vincent and the Grenadines for six years, has concluded his memoirs, in which he described the difficult times he had in his early days because of poverty.{{more}}
Ramjeet said that he was extremely bright in school – always placed first in term tests and annual examinations – but his parents could not afford to send him to secondary school. He therefore was forced to work as an errand boy in a lawyer's office at the tender age of 12, where he learned to type and studied hard to elevate himself. A few years later, he won an 18-month scholarship to West Germany to study journalism and public relations. After working at the Government Radio Station in Guyana, he proceeded to read law and worked in several jurisdictions in the region.
He said despite his difficult years where he did three jobs while studying, he was fortunate to meet world leaders like US President Bill Clinton, Cuban President, Fidel Castro, Willy Brandt, leader of the SPD, months before he became Chancellor of West Germany. He was also closely associated with the late Forbes Burnham, Prime Minister and President of Guyana, while he served as a law clerk in Burnham's law firm of Clarke and Martin, where Desmond Hoyte, who later became President of Guyana, was also an associate.
Ramjeet left Guyana, in 1986 – six months after Burnham died and proceeded to Montserrat, where he served as registrar/magistrate.
Late Chief Justice Lascelles Robotom then arranged a posting for him in St Vincent and the Grenadines, where he wore several hats – Solicitor General, Director of Public Prosecutions, chair of the St Vincent Trust Authority, deputy chair of 705 Radio and a director of two other boards. He also served as PRO to the Carnival Development Committee and the Rotary Club.
His life took a turn after he met Mourine De Freitas and a relationship developed. This posed a serious problem with his wife and, as a result, they were separated. He also had enormous problems with the then attorney general PR Campbell and, as a result, tendered his resignation before the expiration of his contract and moved to St Thomas, US Virgin Islands, as Assistant Attorney General. Mourine also quit her job as manager of the Marketing Corporation and joined him in St Thomas, where she secured employment with one of the leading retail companies which deals with high end jewelry, Little Switzerland.
Ramjeet served the USVI government in two other capacities, as legal counsel in the Department of Personnel, Office of the Governor and later as Administrative Law Judge. He found that the USVI positions were not challenging as in Guyana and St Vincent and moved to the British Virgin Islands, where he worked for one of the leading law firms, JS Archibald & Co, where he had an excellent practice. He was one of the defence attorneys in a high profile murder case, which was covered by Court TV and a TV documentary was produced entitled "Murder in Paradise." A book was published on the case by Lisa Pulitzer. After Mourine was transferred to Boca Raton in Florida, he left the BVI to join her. He later took up a two-year stint as Solicitor General, to become the first person to serve two jurisdictions as Solicitor General. At the end of his contract, he was appointed Honorary Consul/Legal Consultant to the Belize government in Florida.
The 353-page book made references to the hard work of the author and his association with top politicians and cricketers, including Rohan Kanhai, Alvin Kalicharran, Roy Fredericks and others and his role as secretary of the Berbice Cricket Board, which earned him an award by the Board at its 75th anniversary last year.