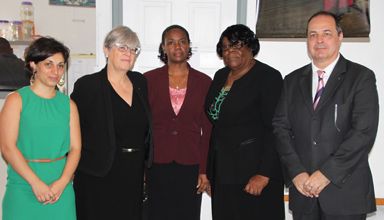 Signed agreement hopes to strengthen linguistic skills, cultural awareness of students
An educational cooperation agreement was signed last Friday at the Alliance Francaise, between the Ministry of Education and the Academy of Martinique, representing the French Ministry of Education in Martinique.{{more}}
The agreement, which has as its objective the strengthening of linguistic skills and cultural awareness among students at the primary, secondary and post secondary levels, was done with the support of the French Embassy to the OECS member states, based in St Lucia, and the Alliance Francaise.
Speaking at the signing ceremony, director of Alliance Francaise Vanessa Demirciyan said the agreement is the result of many years of friendship between the two islands, that both parties are now ready to officialize and reinforce.
"It will give us a lot of hope and new perspectives, encouraging respective training and mobility for teachers and students," she said.
She said she hopes the agreement will reinforce the teaching of French here at all levels and give both teachers and students a new dynamic.
Deputy Prime Minister and Minister of Education Girlyn Miguel said the agreement establishes a framework for cooperation on educational initiatives, relating to the training in the French language of Vincentian students and teachers and in English of Martiniquan students.
"The agreement also provides for other strategies to be employed to make the teaching and learning of French part of a more dynamic and authentic process, as we prepare our students for life and work in the regional and international spheres," Miguel said.
Miguel said the agreement between both parties will provide a solid framework for the promotion of teaching and learning of French at three levels.
Dr Catherine Bertho-Lavenir, head of Education Martinique and representative of the French Ministry of Education in Martinique, said the agreement constitutes a step forward in international cooperation.
She noted that the Academy is made up of 8,700 students from public and private schools, including the primary and secondary levels.
Dr Jean-Luc Mure, head of Cooperation and Cultural Affairs for the French Embassy to the OECS member states in St Lucia, representing His Excellency Eric De La Moussaye, the French Ambassador, also gave brief remarks at the ceremony.
Lou-anne Gilchrist, chief education officer of SVG, delivered the vote of thanks in French.