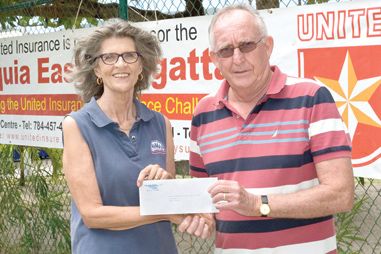 United Insurance supports the 2015 Bequia Easter Regatta
The Bequia Sailing Club will once again have the support of regional insurance company United Insurance Co. Ltd., as Silver sponsors for the 2015 Bequia Easter Regatta. An exciting weekend of sailing is anticipated by all at the upcoming Bequia Easter Regatta, set for Easter weekend, the first weekend in April.{{more}}
John Barnard, one of the local representatives of United Insurance has given his continued support to the Bequia Sailing Club, organizers of the Regatta. United Insurance continues its commitment to the development of sports, not just in St Vincent, but across the other 13 Caribbean territories where they operate.
"At a time when many organizations and companies are struggling, United Insurance continues on its successful mission to promote the development of sports, not just in St Vincent, but across the region. We are steadfast in our commitment to enriching the communities in which we operate, through promoting the development of sports such as sailing. Our association with the Bequia Sailing Club, and other regional events not only support the advancement of local and regional yachting but also support the growth of sports tourism in the Caribbean," said Barnard.
Nicola Redway of the Bequia Sailing Club noted: "We are very pleased to have United Insurance with us again this year. The event would not be made possible without the generous support of good corporate citizens like United Insurance. We have yet another exciting Regatta planned for this year with entrants from across the Caribbean and the world and we expect very keen competition each race day."
The Bequia Easter Regatta, an International Sailing Federation (ISAF) Category C event, takes place from April 2 to April 6, 2015 with more than 50 yachts participating. The United Insurance three-race Challenge will take place on the second day of races and features the J24 class of yachts and the new Surprise Class series.
United Insurance and the organizers look forward to a weekend filled with fervent competition and great fun for participants and spectators alike.