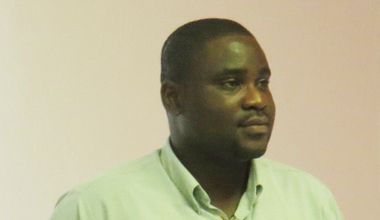 VINLEC engineer on six-week training course in Japan
Assistant Engineer at St Vincent Electricity Services Limited Morrison Creese is currently in Japan attending a six-week training programme that is examining "Alternative Power Generation Technology for Low Carbon Society (LCS)."{{more}}
The programme is being sponsored by the Japan International Cooperation Agency (JICA), a governmental organization whose main function is to execute Japan's Official Development Assistance to developing countries to support self-help efforts that will lead to economic progress.
The main objective of the programme is to provide participants with the knowledge and skills necessary to prepare an Action Plan that will introduce alternative power generation technologies for achieving a Low Carbon Society. A Low Carbon Society is a society that has a minimal output of carbon dioxide emissions into the environment.
The programmes involves lectures and seminars on various topics, including Measures Against Global Warming; Environmental Improvement Efforts; Reduction/Utilization of Waste; Energy Saving and Energy Conservation; Renewable Energy Policy; and Power Generation through Renewable Energy Sources. There will also be various study tours to renewable energy installations, such as nuclear, hydro, wind, ocean and solar systems. Cultural exchange programmes are also included.
Creese, who has been employed with VINLEC for the past five years, is assigned to the company's Planning Department. He says that his main focus is to gain insight into the alternative power generation technologies that are being used in Japan, which will assist VINLEC with the planning and implementation of its future renewable energy programmes. He says that this knowledge will also be used to provide guidance on the technologies that are available to homeowners who wish to own and operate renewable energy systems in the form of wind and solar. Creese further noted that the knowledge gained in energy conservation can improve the company's efforts in this area, as well as inform customers of additional measures that can be employed. In addition, he says he hopes to be able to impart knowledge gained in other areas, such as environmental improvement and waste reduction and utilization, to relevant organizations that can use it to enhance their efforts.
The participants are drawn from governmental organizations with responsibility for energy policy, promotion of renewable energy, and the electric utility industry. The programme runs from February 18 to 26 and brings together participants from Antigua and Barbuda, Bhutan, Cape Verde, St Kitts and Nevis, St Vincent and the Grenadines and Zambia.