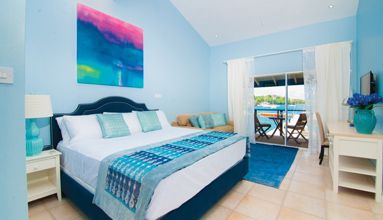 Blue Lagoon Hotel & Marina reopens to rave reviews
The totally refurbished and newly reopened Blue Lagoon Hotel & Marina at Ratho Mill is celebrating being listed as the number one hotel in St Vincent on Trip Advisor, and they have only been open two months. Blue Lagoon (previously known as Sunsail) was taken over in November 2013, and shortly thereafter major renovations began.{{more}}
The hotel rooms were completely renovated and redesigned, boasting fresh and stylish décor with modern fixtures. Each guest room is unique and individually designed offering guests a new experience each time they stay. Blue Lagoon also offers the Calm Waters Restaurant Bar & Lounge, Café Soleil, Flowt Beach Bar, the Gold Doubloon Grocery Market & Chandlery, Indigo Dive and Watersports, Horizon Yacht Charters and a conference room. Still under construction are a fitness centre, swimming pool and additional guest suites and some landscaping. Caricom and group rates are available by calling the hotel directly.
Blue Lagoon was recently declared an official port of entry, where guests can clear Customs and Immigration daily, between 1 p.m. and 4 p.m. The marina at Blue Lagoon is the only full service marina in St Vincent where vessels can fuel up dockside, refill their water tanks and plug in to shore power, as well as taking advantage of all the hotel facilities, including a laundry service. It is also a safe haven during the hurricane season or when bad weather strikes.
Blue Lagoon Hotel & Marina is a huge asset to the tourism industry here in St Vincent and is attracting more hotel and marina visitors back to the island.
If you are interested in finding out more about the Blue Lagoon Hotel & Marina, visit their website: www.bluelagoonsvg.com or call + 1 784 458 4308.