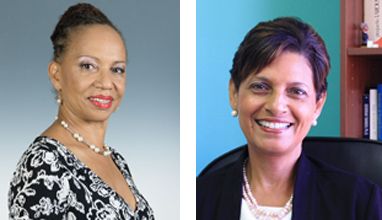 Changing faces of leadership at UWI
The University of the West Indies (The UWI) has announced two senior management changes to drive the strategic direction of the regional institution in its delivery of world-class teaching and online education.{{more}}
The current principal and pro vice-chancellor of The UWI Open Campus, as well as former deputy principal of The UWI Cave Hill Campus, Professor V Eudine Barriteau, has been appointed as principal designate of UWI Cave Hill. Meanwhile, Dr Luz Longsworth, current director of The UWI Mona's Western Jamaica Campus, has been selected as acting principal of the Open Campus for a period of one year. Both appointments take effect from May 1, 2015.
Professor Barriteau's move to the Cave Hill Campus comes as incumbent Sir Hilary Beckles transitions to his new position as vice-chancellor of the university, also from May 1, 2015. Professor Barriteau has served nine months as the second principal of the Open Campus. Grenadian by birth, with a distinguished record as a Caribbean scholar and administrator, Professor Barriteau has held several positions at various ranks at The University of the West Indies for over 30 years. She received her PhD in Political Science from Howard University, an MPA in Public Sector Financial Management from New York University and a BSc in Public Administration and Accounting from The University of the West Indies. She has also earned a professional certificate in editing and scholarly publishing from the International Rice Research Institute in Los Banos, the Philippines.
Dr Luz Longsworth holds a Doctorate in Business Administration in Higher Education Management from the University of Bath in the United Kingdom. She is also a graduate of The University of the West Indies, where she earned her BA in French and Spanish and MBA (Marketing) degrees. She is the holder of a Master of Arts degree in Hispanic Studies from Queen's University, Ontario, Canada.
Dr Longsworth has over 25 years of experience in both academia and business in Jamaica, the British Virgin Islands (BVI) and Belize. As a senior administrator at The UWI, she has served in various posts at the Mona and Open Campuses, including director of the School of Continuing Studies, director of The UWI Open Campus sites, and her current post as director of The UWI Mona Western Jamaica campus in Montego Bay, Jamaica. Dr Longsworth's research includes leadership development, change management and organizational development and transformation. She is also a certified trainer in leadership courses for the internationally renowned John Maxwell Company and has participated in various consulting projects in the Caribbean and the United Kingdom.
Speaking on behalf of the institution's executive leadership, both outgoing and incoming vice-chancellors enunciated the revolutionary impact that these changes are expected to have on the entire UWI system. Outgoing vice-chancellor Professor E Nigel Harris said "Both the Cave Hill and Open Campuses are vital ingredients of the regional university and my hope and expectation are that the newly announced leaders of both campuses will ensure that these valuable entities will continue to grow and thrive within crucible of our regional enterprise."
Sir Hilary Beckles, vice-chancellor designate, also commented saying "It is an honour and privilege to be associated with the selection and appointment of Professor Barriteau and Dr Longsworth as the principal of the Cave Hill Campus and principal (acting) of the Open Campus respectively. I have known them both for over 30 years in their different roles within The UWI and can speak to their contributions in superlative terms. They are colleagues of the highest professional integrity and their unflinching commitment to the development our region and its university has been demonstrated over decades. Professor Barriteau has had a brilliant career in academics and administration at the Cave Hill campus. Dr Longsworth served with distinction as a director in the establishment of the Open Campus. In her current role leading The UWI Mona, Western Jamaica Campus, she has been extraordinarily successful. I eagerly await working with these outstanding colleagues in their new assignments."
These leadership decisions were announced internally at a meeting of the university's Finance & General Purposes Committee at the Regional Headquarters on Friday, February 6, 2015, after approval by the chancellor, Sir George Alleyne, on behalf of the University Council.