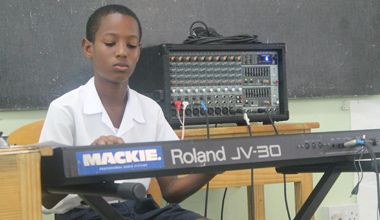 Primary Schools Arts Festival begins
For the next five weeks, primary school students will be showcasing their talent to prove that they have what it takes to be a part of the final grand event of the Primary Schools' Performing Arts Festival (PRISPAF).{{more}}
On Tuesday, the Ministry of Culture, in collaboration with the Ministry of Education, officially launched the event and at this stage, cultural officers are expected to visit a number of primary schools in the country and choose three representatives, who will perform on the grand days, slated for March 11 to March 13.
"We, in St Vincent and the Grenadines, have tremendous talent, from the young right up to the old," said cultural officer Martin Quashie, at Tuesday's opening ceremony.
"I love to hear the little ones and these are the future performers of this nation, so we have to make sure that they are in good hands."
Quashie, who encouraged parents and teachers to help nurture the various talents in the youngsters, stressed that schools should not prevent students from exhibiting their talent, by choosing not to compete in the PRISPAF.
Instead, he urged persons to help students excel in whatever way possible.
"The problem is we do not believe that we can make it like anybody else. We have to start to engender that into the younger ones. Let them feel brave and bold to perform and let us make the opportunities available for them to excel, so if you have a talent, if you can sing, if you can dance, jump and skip…whatever you can do and you know that it is inherent in you, then you have to make sure that you continue doing it," Quashie said.
The first round of showcases began at the Kingstown Preparatory School, where three of 10 acts were chosen to go forward to the grand days event.
Jomali Ellis, who rendered "This is my father's world" on keyboard, was praised by judges for his well executed performance.
"His dexterity has shown; he played that piano with conviction," said head judge and national pannist, Ken Isles.
Hannah Williams won the heart of the judges with her "naturally beautiful voice and strong vocals" when she sang popular song "Let it Go," from the Disney animated movie, Frozen's soundtrack.
The boy/girl duo, Dante Mc Burnett and Adele Singh, also advanced to the grand days event after their performance of popular love song, "All of Me," by John Legend. The judges noted that while there were some problems with breath control throughout the performance, the pair retained the lyrics well and was able to deliver a sound performance.
Other judges were cultural officers Maxine Browne and Nigel Morgan.
This year, over 60 schools have expressed their desire to take part in the PRISPAF.(BK)