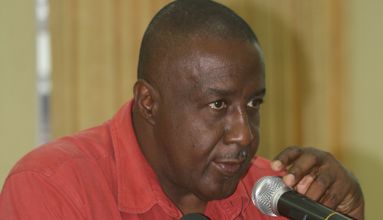 Business leaders sharpen management, leadership skills at workshop
"To be able to manage people you must first be able to manage yourself. To be able to lead people you must be first be able to understand you and manage you."
Last week, this bit of philosophy was explained to a number of persons in supervisory {{more}}and top management positions in local companies during a leadership training seminar dubbed, "Leading with Impact."
Apart from these words of advice, persons attending the seminar were given important tips on how to improve their management and leadership skills.
The training came through a collaboration between the St Vincent and the Grenadines Chamber of Industry and Commerce (SVGCIC) and a local company called Business Logistics, which is owned and operated by Simone Murray.
The one-day seminar had as facilitator renowned business coach Ian Blanchard and was held at the Methodist Church Hall in Kingstown on Thursday, January 23.
During an interview, Blanchard (originally from Dominica, but who resides in Barbados) said that his role as a coach is to help Caribbean leaders to have different perspectives, "because we have the talent and capability and we need to explore it and maximize it."
Considering himself "a Caribbean citizen," Blanchard said that it is important that we develop our business leaders; so, his aim and vision is to help people excel in whatever role they may have chosen.
He said that his sessions were expected to help leaders to focus on themselves and what they were good at, "and take that and be able to utilize that in your leadership and management skills."
He noted also that after the seminar, business leaders should know how to set goals and look at habits and behaviours that will drive those goals, while monitoring those goals.
"The formula for business success and life success is, 'Be times Do equal have' which is really about thoughts and action that will give you results," said Blanchard, who added that it is essential that as a leader, we must first be and become who we need to portray and not who somebody else says we should be.
Blanchard has a wealth of experience in the business world, as he studied engineering, but spent 25 years in business development, sales and marketing, customer service, "spent my entire life on what I would like to call a global journey of discovery."
He has worked in the United States, the United Kingdom, the Middle East, the Cayman Islands, Belize, Barbados, and Grenada. He ran Cable & Wireless in Dominica for two years and in Grenada for four years, while he also oversaw the transformation of Cable & Wireless to LIME.
"My experience and knowledge is far and wide and for me it's about sharing what I have learnt over the years and I believe that as individuals we have to give back, so part of this is how do I help develop the leaders across the region and because of my experience I can add value to them," said Blanchard.
Meanwhile, owner and manager of Business Logistics Simone Murray said that the seminar sought to fill a void.
"We were looking for persons at the supervisory and top management level, as the seminar is geared towards those persons. This is the first of many and we are hoping to do more to look at things like basic record keeping, communication skills, customer service, as we try to tap at every level to fulfil the needs of businesses and develop human resource skills," said Murray.
"There is a serious void on the market for things like this," she opined.
Explaining her company, Murray said that Business Logistics is a small accounting and business development firm that provides freelance accounting services to small and medium-sized businesses. They also provide business training.
President of the SVGCIC Christine DaSilva said that the seminar is the first one of a series, "as we think it is important that you revise strategies."
DaSilva said that while some of the larger businesses have in-house training, "it is good to have an internationally recognized person to do training."
She added that she is hoping that persons can suggest topics for future seminars.
Executive director of the SVGCIC Anthony Regisford stressed that the seminar is a great idea to help improve the business community as, "Blanchard is filled with experience in this sort of things."
Businesses represented at the seminar included Bank of St Vincent and the Grenadines (BOSVG), Mustique Company, SVG Distillers, VINLEC, Quik-Print and the St Hill Insurance Company.