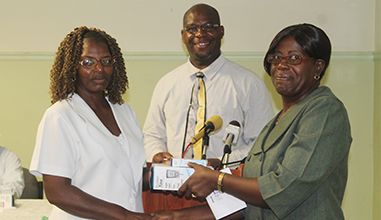 Diabetes among leading causes of death in SVG
"More than two-thirds of all deaths in St Vincent and the Grenadines are caused by one or more of five chronic diseases."
It is with statistics like this in mind that the Ministry of Health, Wellness and the Environment hosted the official launch of the expansion of the Diabetic Care Programme on January 14,{{more}} under the theme, "Self Empowerment – the key to Diabetic Control."
Through this programme, diabetic patients in St Vincent and the Grenadines will be prescribed glucometers, free of charge, to help manage their disease in a more independent manner.
According to medical officer of Health Dr Roger Duncan, the programme is geared toward improving diabetes care among patients in St Vincent and the Grenadines, through the empowerment of individuals, families and communities, as well as the use of affordable, appropriate and adequate technologies.
"Diabetes mellitus is an extremely costly illness and it significantly contributes to the morbidity and mortality profile of St Vincent and the Grenadines. Diabetes and its complications are among the big four chronic non communicable diseases. "Collectively, these non communicable diseases account annually for over 50 per cent of all deaths in St Vincent and the Grenadines. In the year 2013, diabetes was the third leading cause among NCDs and still continues to account for significant portion of visits to health centres," Duncan told persons present at the launch.
"While the primary goal is and will always remain to improve diabetes care, we expect to realize this improvement through the true empowerment of the patients and their families, by equipping them with the necessary skills, tools and knowledge, to effect meaningful and sustainable changes in the way we manage diabetes."
The medical officer noted that the need for diabetes care had been recognized for some time and revealed that a number of health personnel, as well as diabetic patients, were involved in the creation of the Diabetic Care Programme.
In his remarks, permanent secretary Luis de Shong revealed that chronic diseases such as diabetes, are major drivers of health care costs and threaten the affordability of health care services.
Additionally, he stressed an urgency for citizens to improve their way of life, being advocates of healthier lifestyles.
"Many chronic diseases are lifelong conditions and their many impacts lessen the quality of life, not only of those suffering from these diseases, but also of their family members, their caregivers and others," de Shong said.
"The economic burden imposed by chronic diseases is indeed universal. For smaller economies like ours in this country, it is a huge matter of concern, given that each year, millions of dollars are spent tackling the complications of chronic diseases. There is, therefore, a great urgency for us to aggressively address the modifiable lifestyle factors such as healthy diets, lack of physical activity, tobacco smoking and excessive alcohol consumption, all of which can lead to the known chronic diseases."
The permanent secretary highlighted self management as a critical component of managing any chronic disease and quoted research which indicates that "patients who do so realize significant improvements in the clinical indicators of diabetes management, that they also have higher rates of self management, goal setting and achievement, as well as increased satisfaction of diabetes care and also a reduction in medical costs."(BK)