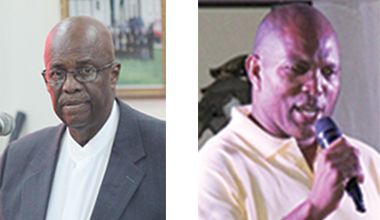 MP apologizes for unlicensed vehicle; Eustace condemns action as 'wrong'
New Democratic Party member of parliament (MP) Nigel Stephenson has publicly apologized for driving an unlicensed vehicle for five years, with the Leader of the Opposition condemning the MP's actions as "wrong".{{more}}
In a press release from the NDP, dated January 9, 2015, Stephenson – who is the Member of Parliament for South Leeward – acknowledged his wrongdoing, and vowed never to let it happen again.
"I apologize for what was a true lapse of judgment on my part. Whatever the challenges I may have faced… I am held to a higher standard of conduct," he stated.
"I knew of my challenges to effect change of ownership for my vehicle, but that does not change the fact that I had and have a responsibility to do all within my power to pay to the Licensing Authority and Insurance Company all fees due and outstanding to them."
Leader of the Opposition Hon Arnhim Eustace, in a separate press release (also dated January 9, 2015), stated that the NDP condemns Stephenson's actions, and has instructed him to immediately pay all outstanding registration fees, insure the vehicle and rectify its legal ownership issue, and appear before the political party's disciplinary committee on January 20, 2015.
"Stephenson is rightfully held to a higher standard of accountability than his electors," asserted Eustace. "He has fallen short and has disappointed himself, his party and his country."
He added: "The New Democratic Party… describes itself to Vincentians as intolerant of corruption and misbehaviour in public office; and… has adopted a critical posture in relation not only to the several misdeeds of the ULP Administration but the absence of any… appropriate sanctions for those misdeeds."
In December 2014, while speaking in Parliament, Senator Julian Francis disclosed that an Opposition parliamentarian had been driving an unlicensed vehicle since 2009. That parliamentarian turned out to be Stephenson.(See full text of statements below)