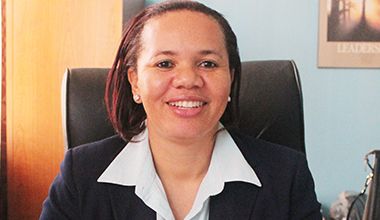 Health officials activate mass casualty management plan at MCMH
As the news spread of the tragic vehicular accident that took place in Owia yesterday morning, all available doctors and some health officials reported to the Milton Cato Memorial Hospital (MCMH), where the mass casualty management plan was activated.{{more}}
Throughout the course of Monday morning, a total of 10 casualties were transported to the MCMH for treatment of injuries caused by the accident, which involved a van transporting passengers, mainly students, overturning and going over an embankment at Rock Gutter, Owia.
"On receiving the call, we realized that we would need to offer support to the area, because they have only one ambulance in that area, so we deployed our ambulances. We have two ambulances at hospital, so we deployed our two ambulances with staff and supplies to assist at the casualty area," hospital administrator Grace Walters told SEARCHLIGHT.
Although she was unable to comment on the nature of injuries of the 10 persons transported to the MCMH, Walters said that they were being seen by the emergency medical team and explained that the mass casualty plan involved clearing the Accident and Emergency area, in preparation to receive some casualties and their relatives.
"Clearing the unit means that we called in every doctor who was available to see the existing patients on the unit, so that we can send them off to the different areas; either send them to the wards, if they require hospitalization or discharge them home if they are fit for discharge," she explained.
As part of the plan, the local psycho-social emergency team was activated and the waiting area of the Accident and Emergency Unit was transformed for family members to be treated by local counsellors.
The hospital administrator noted that this initiative was led by Dr Jozelle Miller, a psychologist on staff at the MCMH.
"We also set up a counselling area because we were anticipating that a lot of family members coming with the patients will need additional counselling because of the injury and the nature of the situation," Walters said.
While the Accident and Emergency unit is expected to resume regular operations today, Walters noted that relatives seeking follow-up sessions will be able to contact any of the counsellors that they saw yesterday.