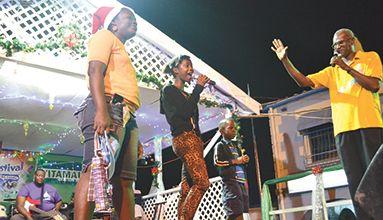 Stubbs and Carriere win major Nine Mornings competitions
The community of Stubbs on the Windward side of the island has yet again emerged as the Best Nine Mornings Community in St Vincent and the Grenadines, in results announced on December 24, by the SVG Nine Mornings Committee.{{more}}
Stubbs, which is winning the title for a fourth year, edged Carriere into second position, Barrouallie third and Richland Park fourth place.
The National Lotteries Authority Best Nine Mornings Community is judged based on: quality of programme, audience participation, crowd support and number of mornings the programmes are staged.
Meanwhile the community of Carriere in the Mesopotamia Valley was selected as the Best Christmas Community for 2014 in other results announced on Christmas Eve. In second position is Port Elizabeth in Bequia, South Rivers third and Barrouallie in fourth place.
The National Lotteries Authority Best Christmas Community is judged over the entire season and takes into account: quality of lighting, evening programmes and Nine Mornings activities. Point Village was the other big winner this year, walking away with the title of the VINLEC Community Lighting Champion for a second year in a row.
The annual prize-giving ceremony for the 2014 Nine Mornings Festival will take place tomorrow, Saturday, January 3, from 10 a.m. at the Peace Memorial Hall. Prizes won during the season will be presented, along with the announcement of the results for the Most Popular Local Christmas Song.
Nine Mornings festivities were held under the theme: "Celebrating a unique Vincentian festival," with some 44 communities across the country participating.