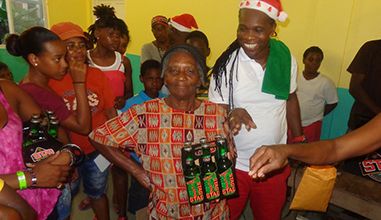 Rose Bank residents get Coreas Christmas Cheer
A party comprising several of Coreas Hazells Inc employees journeyed to Rose Bank on Saturday, December 20 to spread the Coreas Christmas Cheer.{{more}}
In 2013 the North Leeward village of Rose Bank was severely affected by the Christmas Eve floods. The company, in an effort to spread hope and joy, did the following: provided toys and snacks to the children of the village attending primary school; provided a $50 gift certificate for residents of Rose Bank, which can be used specifically for the purchase of paint at Ace Hardware; provided entertainment to the Community and North Leeward as a whole, by making whistle stops through the villages and stopping at Rose Bank for an extended time.
The company has already provided a quantity of Christmas lights and paint for their "Nine Mornings Committee."
CEO of Coreas Hazells Inc Joel Providence said: "We at Coreas truly believe that we can put smiles on the faces of the people of Rose Bank in December 2014, following major challenges they experienced over the past year as a result of the Christmas Floods of 2013. "It is an expression of the genuine care we have for the less fortunate people of our nation."
Coreas Hazells Inc wishes the people of North Leeward generally and Rose Bank specifically, a Merry Christmas and a highly productive 2015.