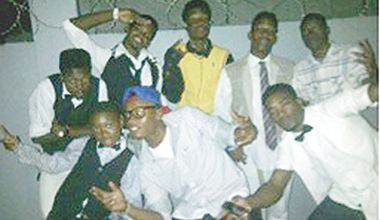 Vincy youth ready to shine at Youth Fest in St Lucia
Six Vincentian singers and one dance group are ready to outshine their St Lucian competitors at the December 21 Youth Fest Finals and bring home the coveted titles of Youth Star 2014 and the People's Choice".{{more}}
The MV Gem Star will be travelling from St Vincent and the Grenadines (SVG) to St Lucia with the Vincentian artistes and supporters. The vessel departs St Vincent at 7 a.m. on Sunday December 21 and leaves Vieux Fort at 11p.m. The all-inclusive return trip costs EC$125.00
Youth Fest is an annual family event that provides a forum to showcase, promote, and develop the musical and related talents of our youth, while utilising their talent and influences to spread positive values and healthy lifestyles.
The December 21 final takes place at the OMS tennis court, opposite the Hewannora Airport entrance, Vieux Fort from 3 p.m.
Thirty-two young artistes aged 8 to 29 will compete in three categories and for the title of YOUTH STAR 2014 with a cash prize of $5,000 and an attractive prize.
In addition, telecommunications company LIME is sponsoring a "PEOPLE'S CHOICE " determined by viewers and patrons texting their favorite artistes.
Artistes compete in the genres of – gospel, dance hall, reggae, soca, rap, hip hop, and R & B.
Seven juniors from St Lucia in the persons of Stephy Harrigan, Abigail Lesforis, Anna Wilson, Mia Williams, Jeffers Charles, Keona St Jour, Avari Leriche, M'Kayla Henry and Jeffers Charles will contest for the first prize of $500 and the second prize of $200.
Twelve teens will vie the $1,000 first prize and $500 second prize. Jarvin Octave, Whitney Abysique, Suan Beausoliel, Asher Small, Prisca Amedee, Kertage Joseph, Alicia Bernard, Shan Lucien, Kirby Mathurin, Kaitlyn Charlery, Levonn Sealy and Chester Auguste from St Lucia will come up against Shaniah Webb, Tevon Richards and Javid Rouse from St Vincent and the Grenadines
The winners and 1st runners-up in twenties category will walk away with $2,000 and $1,000 respectively. Vincentians Brian Maloney, Zamfir Adams and Noveecha Toney will try to outshine St Lucians Asa Joseph, Randel Martial, Eleza Samuel, Alex Klien, Robert Rene, Adrian Klien, Tisha Peter, Kenton St Ville, Gerald Dumerville and Tessa George.
Artistes are paid appearance fees; juniors $100, teens $200, twenties $300.
The dance groups The Amadis Dancers, S.A.K, Genuine 86 and CAM Dancers from St Lucia and Breakstorm Crew from St Vincent and the Grenadines will faceoff for the winner's prize of $1,000 and appearance fees of $500.
The scintillating modeling group N Vogue will show off their creativity and beauty.
St Lucia's leading band, DYP with Derek Yarde will back up a slate of artistes including 2014 Road March winner J Mouse, who will rock the crowd in a real Caribbean fete well "worth it".
Seventy-five ticket holders will each win gate prizes of $25 in cash. In addition, several patrons will take home attractive gate prizes. Persons texting to select the "PEOPLE'S CHOICE" will also win exciting LIME prizes.
More information is available from calling: 758 454-3486; 758 489-7003; 784 530-6534; e-mailing: [email protected]; Facebook: YouthFest Caribbean.