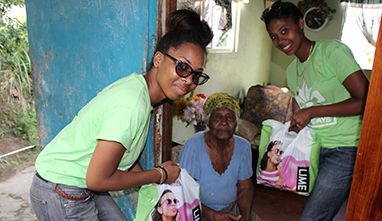 LIME Community outreach still going after 15 years
Hundreds of people living on this country's leeward coast were the recipients of care packages compliments telecommunications provider LIME. This tradition of giving has been honoured by the company for 15 years.{{more}}
On Saturday last week, a LIME entourage which included people from the sales and marketing departments embarked on an all day crusade, delivering vital foodstuff and toiletries to shut-ins, the indigent, and needy Vincentians.
The group began their labour of love in the Buccament Bay area and concluded in Fitzhughes, touching the towns of Layou, Barrouallie, and Chateaubelair in the process, interacting with the young and elderly, bringing early Christmas cheer as they journeyed into the homes and villages of the grateful beneficiaries.
Some of the villages touched by the kind deed included Barracks Village, Petit Bordel, Plan Village, Sharpes Village, Golden Grove, Rose Bank, Troumaca, Dark View, Texier Road, Coulls Hill, Cowdrey Village among others.
All the recipients, and even people who did not receive the LIME care packages commended the company for its gesture of care and compassion to the people in need, who ranged from a five-year-old lad who was recently left parentless, to blind, crippled and bed-ridden individuals.
Shouts of "God bless you," and "thank you very much," were repeated over and over, as people showed their gratitude to LIME.
LIME also used the opportunity to give people who were not able to come to the outlets in Kingstown, a chance to purchase handsets at greatly reduced prices as well as to trade in and upgrade their handsets.
The caravan of care and compassion journeys to the windward coast this weekend, as LIME continues its mission to upgrade Vincy one customer at a time.