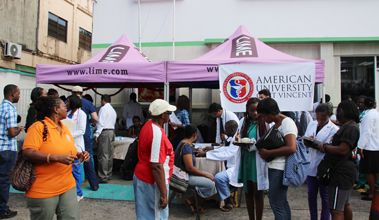 Vincentians need more diabetes and hypertension education – AUS study
Findings from a survey conducted by students of the American University of St Vincent School of Medicine (AUS), have shown that Vincentians are still in need of diabetes and hypertension education.{{more}}
An interactive health fair which took place on Saturday, November 29 revealed that 15 out of the 191 people who participated in the questionnaire (7.9 per cent), were not aware if they were either hypertensive or diabetic; a situation that is of great concern for AUS.
The AUS is of the view that the high incidence of lower limb amputations which occur in St Vincent and the Grenadines, can be drastically reduced if the public was taught about vital health checks, such as feet examinations.
The survey also revealed that five of the 191 participants (2.6 per cent) were aware that foot checks were important in the reduction of the risk of, or minimisation of the extent of lower limb amputations through early detection.
Other data revealed that 28 of the 191 persons (14.7 per cent) were known diabetics while 46 of the 191 (24.1 per cent) were confirmed hypertensive patients.
Interestingly, 15 out of the 28 (53.6 per cent) diabetic individuals were also diagnosed with hypertension.
The AUS noted that these statistics provide the incentives to the students and faculty of AUS to continue their awareness campaigns and provide clinical skills, which are geared towards improving the health of Vincentians.
The AUS intends to conduct more health fairs in the future, to raise education and awareness of chronic non-communicable diseases, and other health matters that it believes is relevant to the health and well being of the Vincentian populace.
During the recent health fair, participants, apart from getting their blood sugar, weight, and blood pressure checked, were also educated on the chikungunya and ebola viruses.(JJ)